HighDensit Module From Viscom features high-power LEDs.
Press Release Summary: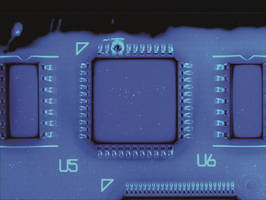 In addition to standard camera equipment, Viscom's HighDensity module is suitable for inspecting silicone or especially thin coatings in electronics production. Featuring LEDs attached around the camera, the ultraviolet light (black light) with special wavelengths extends the field of application of the S3088 CCI and provides optimum illumination even for weakly fluorescing coating types.
---
Original Press Release:
Viscom Enables Greater CCI Inspection Range with HighDensity Module
Viscom now offers a HighDensity module in addition to standard camera equipment for inspecting conformal coatings in electronics production. This is the better choice, particularly where silicone or especially thin coatings need to be reliably inspected. The new HighDensity module will be on display in Stand A1.217 at electronica, scheduled to take place Nov. 8-11, 2016 at the Messe München.

There are two options for the orthogonal camera technology of the well-proven inspection system S3088 CCI from Viscom: While the integrated standard module has more than fulfilled most of the demands for a long time, the new HighDensity module is recommended when nano plasma coatings need inspection. Also, it is ready to inspect the extremely temperature resistant silicone-based coatings that are used, for example, to make smartphones resistant to moisture.

Among its other features, the HighDensity module is distinguished by special high-power LEDs which are attached around the camera. Their ultraviolet light (black light) with special wavelengths clearly extends the field of application of the S3088 CCI and provides optimum illumination even for weakly fluorescing coating types.

Peter Krippner, Vice President of Serial Products at Viscom AG, stated: "With this configuration of the S3088 CCI, the customer has absolute versatility. All current inspection tasks can be reliably accomplished." Just as with the standard orthogonal sensor module, the HighDensity module can also be additionally equipped with four or eight angled cameras. With this configuration, the quality of the coating layer can also be inspected on the sides of the components with no further effort.

In conformal coating inspection (CCI), special LEDs illuminate coatings that are mixed with particles that fluoresce under UV light. The coating layer typically fluoresces in blue under this excitation. With the right frequency adjustments, all typical defect sites are reliably detected. The Viscom inspection system S3088 CCI finds defects such as air bubbles, contamination or missing coatings dependably, and ensures the guaranteed high quality of the conformal coating on the electronic assemblies.

About Viscom

Viscom AG develops, manufactures and sells high-quality inspection systems. The portfolio encompasses the complete bandwidth of optical and X-ray inspections. In the area of assembly inspection for electronics manufacturing, the company is among the leading suppliers worldwide. Viscom systems can be configured specifically to the customer and can be interlinked. The company headquarters and manufacturing location is in Hanover, Germany. With a wide network of branches, applications centers, service support points and representatives, Viscom is represented internationally. Founded in 1984, since 2006 Viscom has been listed on the Frankfurt Stock Exchange (ISIN: DE0007846867).

For additional information: www.viscom.com
More from Test & Measurement