High-Yield Blades suit beef and pork processing.
Press Release Summary: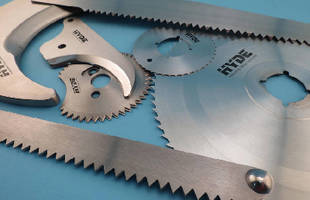 Depending upon usage and application, Beef and Pork Processing Blades are produced in high carbon and stainless steel. Circular and straight/reciprocating blades include brisket, breaking, ribbing, scribing, tail bone, chitterling, dehiders, and carcass cutters. Many circular blades for carcass cutting or breaking are designed with set teeth, offset from plane of blade, alternating left and right. This allows for aggressive cut through tough and thicker areas with minimized clogging.
---
Original Press Release:

Neither Fish NOR Fowl, Hyde Introduces New High-Yield Blades for Beef & Pork Processing



Southbridge, MA  – Building upon experience in poultry and seafood plants, Hyde Industrial Blade Solutions has introduced a new line of blades for the processing and preparation of beef, pork and lamb. Hyde IBS Beef & Pork Processing Blades are designed to reduce waste and improve per piece yield for red meat processors. A stock range of blades to accommodate the most common processing machines in the market will initially be available.



Following extensive research and development and testing, Hyde launched this new line of circular and straight/reciprocating blades including brisket, breaking, ribbing, scribing, tail bone, chitterling, dehiders and carcass cutters. Custom hock cutter blades are also available. Many of the circular blades for carcass cutting or breaking are designed with set teeth, offset from the plane of the blade, alternating left and right. This feature allows for a more aggressive cut through tough and thicker areas with less clogging within the teeth of the blade.



Depending upon the usage and application, Hyde Beef & Pork Blades are produced in high carbon and stainless steel. Hyde high carbon steel blades are produced with a smooth Ra microfinish coating to reduce friction during the cut and the tendency of meat and waste products to stick to the blade. Cleaner blades last longer and cut more efficiently producing more yield and less waste.



Starting with a wide range of the highest-grade alloy steels including powdered metals, Hyde employs proprietary processes in blanking, laser cutting, heat treating, grinding and polishing to ensure superior cutting performance of each individual blade. Manufactured in facilities with ISO 9001:2008 plant certification, durable Hyde IBS blades are engineered for long-life.



Celebrating its 140th year of serving customers, Hyde Industrial Blade Solutions is a leading producer of industrial knives and blades for a wide variety of markets including food processing, cloth and textile and leather, hose and tube, tire and rubber, package converting, paper and packaging and abrasives as well as for general industrial applications. Hyde Tools, Inc. is the largest manufacturer of industrial machine and hand knives and tools for remodeling, restoration, building trades and do-it-yourselfers in North America.



For more information on Hyde IBS Beef & Pork Processing Blades, contact Hyde IBS, 54 Eastford Road, Southbridge, MA 01550. Phone: 800-872-4933. Or visit our website at www.hydeblades.com