High-Voltage SPST Switches target portable medical equipment.
Press Release Summary: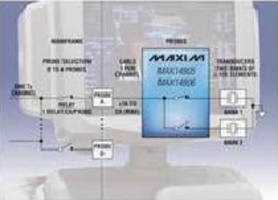 Designed to replace bulky relays, 230 V 16-bit MAX14805/MAX14806 each feature 2 banks of 8 channels controlled by 2 logic inputs. HVCMOS technology enables devices to combine bilateral DMOS switches and CMOS logic to control high-voltage analog signals. MAX14806 additionally integrates 40 kW bleed resistors to discharge capacitive loads such as piezoelectric transducers. Housed in 7 x 7 mm TQFP package, switches operate from -40 to +85°C with turn-on/turn-off times of 5 µs.
---
Original Press Release:

16-Channel, High-Voltage Switches Replace Bulky Relays in Portable Medical Equipment



16-channel, high-voltage switches are ideal for ultrasound/industrial sensors.

Maxim's new analog switches replace expensive relays to save up to 60% board space in high-channel-count applications.

SUNNYVALE, CA - Maxim Integrated Products (NASDAQ: MXIM) introduces its third generation of 230V switches: the MAX14805/MAX14806 16-channel, high-voltage SPST switches. Each device features two banks of eight channels controlled by two logic inputs for easy operation and design flexibility. Maxim's proprietary HVCMOS technology enables the devices to combine high-voltage bilateral DMOS switches and low-power CMOS logic to provide efficient control of high-voltage analog signals. Additionally, the MAX14806 integrates 40kW bleed resistors to discharge capacitive loads such as piezoelectric transducers. These features eliminate expensive, bulky discrete circuitry on each analog switch terminal, thus saving cost and up to 60% board space. With their fast turn-on/turn-off times (5µs) and high-channel-density architecture, the MAX14805/MAX14806 are ideal for portable and console-based ultrasound devices, nondestructive testing (NDT) equipment, industrial sensors, and other applications that must switch high-voltage signals.

The MAX14805/MAX14806 support a wide range of high-voltage supplies for enhanced flexibility. They operate with VNN from -160V to 0V and VPP from +40V to (VNN + 220V). Both devices are fully specified over the -40°C to +85°C extended temperature range, and are available in an industry-standard, 7mm x 7mm, 48-pin TQFP package. Prices start at $20.54 (1000-up, FOB USA).

Maxim Integrated Products is a publicly traded company that designs, manufactures, and sells high-performance semiconductor products. The Company was founded over 25 years ago with the mission to deliver innovative analog and mixed-signal engineering solutions that add value to its customers' products. To date, it has developed over 6300 products serving the industrial, communications, consumer, and computing markets.

Maxim reported revenue in excess of $1.6 billion for fiscal 2009. A Fortune 1000 company, Maxim is included in the Nasdaq 100, the Russell 1000, and the MSCI USA indices. For more information, go to www.maxim-ic.com.

Customer Service: 1-800-998-8800

More from Architectural & Civil Engineering Products