High-Voltage SMD MLCCs serve industrial, telecom applications.
Press Release Summary: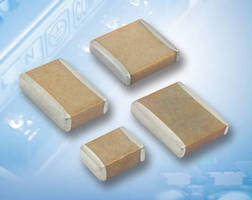 Offered in 4 EIA sizes from 1,812–2,225 HV High Voltage Series has X7R dielectric and 3,000–5,000 Vdc range. Breakdown voltage ratings increase reliability against voltage spikes, while serial electrode design reduces risk of short circuits due to mechanical cracks. Capacitance ranges from 180 pF to 15 nF, TCC is ±15% from -55 to +125°C, and aging rate of 1% max/decade. Manufactured in noble metal electrode technology with wet build process, series has 100% matte tin plate terminations.
---
Original Press Release:

Vishay Intertechnology High-Voltage SMD MLCCs Deliver High Reliability for Industrial and Telecom Applications



Featuring a Serial Electrode Design, Devices Offer Extended Voltage Range to 5 kV in Four Case Sizes From 1812 to 2225



MALVERN, Pa. – Vishay Intertechnology, Inc. (NYSE: VSH) today introduced a new series of surface-mount multilayer ceramic chip capacitors (MLCCs) optimized for high-voltage industrial and telecom applications. Providing increased reliability over standard devices, the Vishay Vitramon HV High Voltage Series features a robust serial electrode design and an extended voltage range up to 5 kV in four standard EIA sizes from 1812 to 2225.



The higher breakdown voltage of the MLCCs released today increases reliability against voltage spikes, while their serial electrode design reduces the risk of short circuits due to mechanical cracks. Manufactured in noble metal electrode (NME) technology with a wet build process, the devices are ideal for input and output filtering in power supplies and analog and digital modems, snubbing in power converters, and buffering in voltage multipliers.



Featuring an X7R dielectric, HV High Voltage Series devices offer a voltage range from 3000 VDC to 5000 VDC, capacitance from 180 pF to 15 nF, a temperature coefficient of capacitance (TCC) of ± 15 % from -55 °C to +125 °C, and an aging rate of 1 % maximum per decade. RoHS-compliant, halogen-free, and Vishay Green, the MLCCs offer 100 % matte tin plate terminations.



Device Specification Table:







Dielectric



Case



Max. voltage (V)



Capacitance





Min.



Max.





X7R



1812



5000



180 pF



3.9 nF





1825



5000



330 pF



10 nF





2220



5000



390 pF



10 nF





2225



5000



470 pF



15 nF







Samples and production quantities of the HV High Voltage Series are available now, with lead times of 11 weeks. Pricing for U.S. delivery starts at $0.09 per piece.



Vishay Intertechnology, Inc., a Fortune 1000 Company listed on the NYSE (VSH), is one of the world's largest manufacturers of discrete semiconductors (diodes, MOSFETs, and infrared optoelectronics) and passive electronic components (resistors, inductors, and capacitors). These components are used in virtually all types of electronic devices and equipment, in the industrial, computing, automotive, consumer, telecommunications, military, aerospace, power supplies, and medical markets. Vishay's product innovations, successful acquisition strategy, and "one-stop shop" service have made it a global industry leader. Vishay can be found on the Internet at www.vishay.com.



Link to Datasheet: http://www.vishay.com/ppg?452285 (HV High Voltage Series)



Link to Images:https://www.flickr.com/photos/vishay/albums/72157662497939723



Vishay Contact:

Andrew Post

Senior Manager

Global Communications

Vishay Intertechnology, Inc.

Telephone: 1 610 251-5287

Fax: 1 610 889-9429

Email: andrew.post@vishay.com

Follow Vishay:

http://twitter.com/vishayindust  

http://www.facebook.com/VishayIntertechnology

More from Material Processing