High-Voltage Polymer Chip Capacitors deliver high reliability.
Press Release Summary: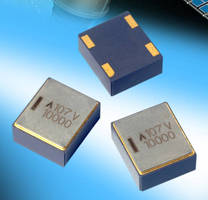 Offering 33 µF/75 V code, TCH Series exhibits high-reliability endurance of up to 10,000 hr at 85ºC and rated temperature. Other properties include leakage current down to 0.1 CV, capacitance of 22–330 µF, and voltage ratings from 10–100 V. Available with gold-plated J-lead, tin/lead-plated J-lead, and gold-plated undertab terminations, capacitors come in CTC-21D hermetically sealed ceramic cases filled with inert gas, operate from -55 to +125ºC, and suit mission-critical applications.
---
Original Press Release:

AVX Extends its Award-Winning TCH Series High Voltage, Hermetically Sealed Polymer Chip Capacitors



Recently recognized with the 2015 Passive & Electromechanical Product of the Year Elektra Award, the TCH Series delivers the highest voltages of any space-grade SMD polymer capacitors currently available, & is the first effective polymer solution for mission-critical automotive, avionics, aerospace, defense, & power applications



FOUNTAIN INN, S.C. – AVX Corporation, a leading manufacturer of passive components and interconnect solutions, has extended its award-winning TCH Series high voltage, hermetically sealed polymer chip capacitors with the addition of a new 33µF/75V code. Packaged in robust, hermetically sealed ceramic cases filled with inert gas in order to eliminate the potential for materials and performance degradation resulting from exposure to high temperature, high humidity, and ambient atmosphere, TCH Series polymer chip capacitors — which were recently recognized with Electronics Weekly's 2015 Passive and Electromechanical Product of the Year Elektra Award — are the world's first effective polymer solution for mission-critical applications, including: automotive, avionics, aerospace, defense, pulse power, and power supplies.



Manufactured and screened using AVX's patented Q-Process, which identifies and removes components that may experience excessive parametric shifts or operational instability, TCH Series polymer chip capacitors exhibit high reliability endurance of up to 10,000 hours at 85ºC and rated temperature, and exhibit: low ESR, low derating capabilities, low leakage current (0.1CV), high ripple current, high capacitance (22µF to 330µF), and the highest voltages (10–100V) of any space-grade SMD polymer capacitor currently available on the market.



Housed in large CTC-21D hermetically sealed cases especially designed to provide high capacitance and stable operation in harsh environments, TCH Series high voltage polymer chip capacitors are available with gold-plated J-lead, tin/lead-plated J-lead, and gold-plated undertab terminations. The dimensions for TCH Series capacitors with J-leads are 11.5mm x 12.5mm x 6.15mm, and the dimensions for those with undertab terminations are 11mm x 12.5mm x 5.95mm. Rated for use in temperatures spanning -55ºC to +125ºC, TCH Series capacitors are RoHS compliant and lead-free compatible, and may be supplied in waffle or bulk packaging. As a result of the latest extension, the series is now available in seven codes: 330µF/10V, 220µF/16V, 150µF/25V, 100µF/35V, 47µF/50V, 33µF/75V, and 22µF/100V; however, nearly 20 additional codes spanning 15µF to 680µF and 10V to 100V are actively in development.



"Although we initially developed our innovative TCH Series high voltage, hermetically sealed polymer chip capacitors for a mission-critical European Space Agency (ESA) application that required super high capacitance, very low ESR, and robust packaging capable of high reliability operation in even extremely harsh environments, each of the several series extensions and improvements we've released since its 2013 introduction has broadened the scope of applications for which it provides uniquely effective solutions," said Mitch Weaver, a member of the technical staff at AVX. "Further, in addition to the new codes we're developing, the series has recently demonstrated 150ºC and 150V capabilities during testing, so we fully expect the TCH Series to deliver even more breakthroughs in solid electrolytic capacitor development."



For more information about AVX's award-winning TCH Series high voltage, hermetically sealed polymer chip capacitors, please visit http://www.avx.com/products/polymer/high-reliability-polymers/tch-hermetically-sealed-polymer/ to access the product datasheet and catalog, safety and packaging information, relevant technical papers, and modeling software. For all other inquiries, including information about future TCH Series extensions, please visit www.avx.com, call 864-967-2150, or write to One AVX Boulevard, Fountain Inn, S.C. 29644.



About AVX

AVX Corporation is a leading international supplier of electronic passive components and interconnect solutions with 20 manufacturing and warehouse facilities in 11 countries around the world. AVX offers a broad range of devices including capacitors, resistors, filters, couplers, timing and circuit protection devices and connectors. The company is publicly traded on the New York Stock Exchange (NYSE:AVX).



For more information, contact:

Mitch Weaver

Member of Technical Staff

864-228-4595

mitch.weaver@avx.com



Christine Stieglitz

PR Executive

BtB Marketing

919-872-8172

christine.stieglitz@btbmarketing.com

More from Communication Systems & Equipment