Electrical / Electronic Probes
High-Voltage Oscilloscope Probe is fiber-optically isolated.
Press Release Summary: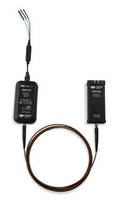 Optimized for measurement of small signals floating on HV bus in power electronics designs, HVFO probe features optical isolation between probe tip and oscilloscope input. This reduces adverse loading of DUT while also reducing noise, distortion, ringing, overshoots, and transients on measured signal. Architecture consists of single laser and fiber optic cable providing optical isolation and modulated signal + data communication. Multiple tips achieve different operating voltage ranges.
---
Original Press Release:
Teledyne LeCroy Previews HV Fiber-Optically Isolated Probe at ECCE in Milwaukee, WI
Ideal solution for measurements of upper-side gate drive signals, floating control signals, or floating sensor signals.

CHESTNUT RIDGE, N.Y. -- Teledyne LeCroy previews the new HVFO high voltage fiber-optically isolated oscilloscope probe today and tomorrow at the IEEE Energy Conversion Congress and Expo (ECCE) 2016 exhibition in Milwaukee, Wisconsin (USA).  The HVFO probe further extends Teledyne LeCroy's market leadership in the power electronics market, adding to other unique solutions such as the only HV differential probe rated for 1500Vdc common-mode testing, the industry's only 8-channel, 12-bit resolution oscilloscopes, and Motor Drive Analyzers for three-phase electrical and mechanical power measurements.

Optimized for Small-Signal Floating Measurements
The HVFO is an affordable, optimally designed probe for measurement of small signals floating on a HV bus in power electronics designs.  Optical isolation between the probe tip and the oscilloscope input reduces adverse loading of the device under test (DUT); and also reduces noise, distortion, ringing, overshoots, and transients on the measured signal. It far surpasses the measurement capabilities and signal fidelity of both conventional HV differential probes and acquisition systems that rely on galvanic channel-to-channel and channel-to-ground high voltage isolation.  Furthermore, it mitigates reliance on dangerous test setups that require floating the oscilloscope and probe, or investments in specialized isolated oscilloscope or data acquisition systems that result in other performance compromises.

The HVFO architecture is simple, with a single laser and fiber optic cable providing optical isolation and modulated signal + data communication. Multiple tips achieve different operating voltage ranges. The HVFO is small enough to fit in tight spaces, provides just enough performance for real-world needs, and is affordable enough to fit the tightest of equipment budgets.

Upper-side Gate Drive Signal Measurements
The gate drive circuit in a power electronics design is a series RLC circuit with parasitic capacitances across the semiconductor device.  An upper-side device has an applied gate voltage floating above ground.  Any measurement probe with high tip capacitance in parallel with the parasitic capacitance from the gate to emitter (CGE) or gate to source (CGS), and/or high impedance and low loop inductance in series with the gate drive impedance, will at best undesirably load the gate drive signal and at worst cause circuit malfunction.  Measurement interference from the low-side device switching can also interfere with proper upper-side gate voltage measurement.

The HVFO has low tip capacitance and high input impedance, and because the amplifier is optically-isolated, the tip only has to measure the small signal gate-drive voltage.  Therefore, there is approximately 1/100th of the loading compared to a conventional HV differential probe; and the superior noise and rejection provided by the high common-mode rejection ratio (CMRR), low lead loop inductance, and low attenuation permits the gate-drive signal to be faithfully reproduced in challenging environments.

Floating Control or Sensor Signal Measurements
It is difficult to measure floating control or sensor signals with conventional instrumentation, because a probe with low input impedance or high attenuation will load the DUT and adversely affect system performance or signal fidelity, result in too much noise in the measurement, or both.  Furthermore, the HVFO's low tip capacitance, which is charged only to the small-signal floating sensor voltage level and not the common-mode voltage, will provide better response for faster signals.

Performance Summary
Expected bandwidth will be in the range of 60 MHz.  Input impedance will be in the range of 5-10 MΩ for most applications/users.  CMRR will be ~100 dB.  Application-specific performance comparisons can be viewed at http://go.teledynelecroy.com/hvfo. The probe will be compatible with most Teledyne LeCroy oscilloscopes produced within the last ten years and is an ideal fit for Teledyne LeCroy's broad line of high-definition oscilloscopes, which includes the HDO4000, HDO6000, and HDO9000 four-channel oscilloscopes and the HDO8000 / MDA800 eight-channel oscilloscopes and motor drive analyzers.

Expected Pricing and Availability
The HVFO will be priced less than $4000.  Products will be available for purchase and delivery in January of 2017.

About Teledyne LeCroy
Teledyne LeCroy is a leading manufacturer of advanced oscilloscopes, protocol analyzers, and other test instruments that verify performance, validate compliance, and debug complex electronic systems quickly and thoroughly. Since its founding in 1964, the Company has focused on incorporating powerful tools into innovative products that enhance "Time-to-Insight". Faster time to insight enables users to rapidly find and fix defects in complex electronic systems, dramatically improving time-to-market for a wide variety of applications and end markets. Teledyne LeCroy is based in Chestnut Ridge, N.Y. For more information, visit Teledyne LeCroy's website at teledynelecroy.com.

© 2016 by Teledyne LeCroy. All rights reserved. Specifications are subject to change without notice.

Media contact:
Hilary Lustig, Teledyne LeCroy
(845) 578-6120

Customer contact:
Teledyne LeCroy Customer Care Center
(800) 553-2769

Website:
teledynelecroy.com
More from Fluid & Gas Flow Equipment