High-Voltage MOSFETs suit SMPS applications.
Press Release Summary: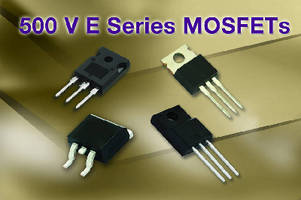 Built on second-generation Super Junction Technology, 500 V Series of High-Voltage MOSFETs are optimized for operation in switch mode power supplies to 500 W. Devices range from 12–20 A with low on-resistance from 190–380 mΩ and ultra-low gate charge of 22–45 nC. Designed to withstand high energy pulse in avalanche and commutation modes, RoHS-compliant devices meet stringent 80 PLUS efficiency standards required for consumer products, lighting applications, and ATX/silver box PC SMPS.
---
Original Press Release:

Vishay Intertechnology Announces 11 New 500 V High-Voltage MOSFETs Built on Gen II Super Junction Technology



Devices Offer Same Benefits of High Efficiency and Power Density as E Series 600 V and 650 V MOSFETs



MALVERN, Pa. – Vishay Intertechnology, Inc. (NYSE: VSH) today announced the addition of 11 new devices to its 500 V series of high-voltage MOSFETs optimized for operation in switch mode power supplies (SMPS) to 500 W. Featuring the same benefits of extremely low conduction and switching losses as the company's E Series 600 V and 650 V devices, the Vishay Siliconix MOSFETs were developed to assist customers in achieving higher performance/efficiency standards such as the stringent 80 PLUS efficiency standards required for certain high-performance consumer products, lighting applications, and ATX/silver box PC SMPS.



Built on second-generation Super Junction Technology, the 500 V MOSFETs released today provide a high-efficiency complement to Vishay's existing 500 V D Series components based on standard planar technology. The 12 A to 20 A devices feature low on-resistance from 190 mΩ to 380 mΩ and ultra-low gate charge of 22 nC to 45 nC. This combination results in a very favorable figure of merit (FOM) for power conversion applications.



The devices' low on-resistance also helps improve power density, while their faster switching speeds increase efficiency in typical hard-switched topologies such as power factor correction (PFC), two-switch forward converters, and flyback converters.



The RoHS-compliant devices are designed to withstand high energy pulse in the avalanche and commutation modes with guaranteed limits through 100 % UIS testing.



Device Specification Table:


| | | | | |
| --- | --- | --- | --- | --- |
| Device | ID (A) @ 25 °C | RDS(on) (mΩ) @ 10 V (maximum) | QG (nC) @ 10 V (typical) | Package |
| SiHD12N50E | 12 | 380 | 22 | TO-252 |
| SiHP12N50E | 12 | 380 | 22 | TO-220 |
| SiHB12N50E | 12 | 380 | 22 | TO-263 |
| SiHA12N50E | 12 | 380 | 22 | Thin lead TO-220 FULLPAK |
| SiHP15N50E | 15 | 280 | 30 | TO-220 |
| SiHB15N60E | 15 | 280 | 30 | TO-263 |
| SiHA15N50E | 15 | 280 | 30 | Thin lead TO-220 FULLPAK |
| SiHG20N50E | 20 | 190 | 45 | TO-247AC |
| SiHP20N50E | 20 | 190 | 45 | TO-220 |
| SiHB20N50E | 20 | 190 | 45 | TO-263 |
| SiHA20N50E | 20 | 190 | 45 | Thin lead TO-220 FULLPAK |



Samples and production quantities of the new 500 V power MOSFETs are available now, with lead times of 16 to 17 weeks. Pricing for U.S. delivery only starts at $2.30 per piece.



Vishay Intertechnology, Inc., a Fortune 1000 Company listed on the NYSE (VSH), is one of the world's largest manufacturers of discrete semiconductors (diodes, MOSFETs, and infrared optoelectronics) and passive electronic components (resistors, inductors, and capacitors). These components are used in virtually all types of electronic devices and equipment, in the industrial, computing, automotive, consumer, telecommunications, military, aerospace, power supplies, and medical markets. Vishay's product innovations, successful acquisition strategy, and "one-stop shop" service have made it a global industry leader. Vishay can be found on the Internet at www.vishay.com.



http://twitter.com/vishayindust

http://www.facebook.com/VishayIntertechnology

More from Packaging Products & Equipment