High-Voltage Line Driver IC suits small IO-Link devices.
Press Release Summary: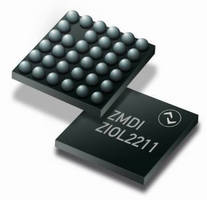 Supplied in 2.5 x 2.5 mm WL-CSP, ZIOL2211 has high-voltage I/O channel that meets physical layer requirements of sensor and actuator systems used in factory and process automation applications. Product has -40 to +85°C operating range, is fully programmable for settings ranging from slew rate and current to diagnostics features, and supports IO-Link Specification v1.0 and v1.1. IC suits all types of sensors and actuators used in harsh environments.
---
Original Press Release:

ZMDI, a Global Semiconductor Company, Announces the Release of the ZIOL2211 in a Wafer-Level Chip-Scale Package - a Cost-Effective High-Voltage Line Driver IC for the Smallest IO-Link Devices



DRESDEN, Germany -- ZMD AG (ZMDI [http://www.zmdi.com ]), a Dresden-based semiconductor company that specializes in enabling energy-efficient [http://www.zmdi.com/energy-efficiency ] solutions, today announces the release of the ZIOL2211 integrated circuit (IC), provided in a wafer-level chip-scale package (WL-CSP). As a global supplier of analog and mixed-signal solutions for automotive, industrial, medical, information technology and consumer applications, ZMDI is pleased to introduce one of the smallest IO-Link compliant line driver ICs on the market. The cost-effective ZIOL2211 WL-CSP driver has a high-voltage I/O channel that meets the physical layer requirements of sensor and actuator systems used in factory and process automation applications. The device is a member of ZMDI's ZIOL2xxx line-driver IC family and targets small sensor and actuator devices.

"Within recent years, a trend toward smaller yet more powerful sensors and actuators can be seen in process and factory automation. With IO-Link technology, especially our new wafer-level chip-scale-package IC, the ZIOL2211, it has become easier to miniaturize products," stated Bernhard Huber, Business Line Manager for Power and Analog at ZMDI [http://www.zmdi.com ].

ZMDI [http://www.zmdi.com ]'s ZIOL2211 WL-CSP high-voltage line driver is ideal for all types of sensors and actuators used in harsh environments such as automation applications. It provides a wide range of configurable system features. The driver is fully programmable for settings ranging from slew rate and current to diagnostics features.

ZMDI's existing IO-Link tools [http://www.zmdi.com/products/io-link/io-link-tools ] also support the ZIOL2211 WL-CSP. Using the same IC and development tools for all serial I/O devices is highly beneficial as it saves design time and shortens time-to-market.

Furthermore, it greatly increases efficiency as it allows designers to apply a proven design to a new product.

The ZIOL2401 [http://www.zmdi.com/products/io-link/ziol2401 ] Starter and Lab Kit are suitable for all ZIOL2xxx ICs including the ZIOL2211 WL-CSP. The application kit includes an evaluation board and a Windows(R)-based configuration tool, with a USB interface between the user's PC and the board. Developers can easily evaluate configurations and save the results. In-system programming using the Serial Peripheral Interface (SPI) standard is also supported, allowing for full customization after manufacturing.

The ZIOL2211 WL-CSP's operating temperature range is -40degree(s)C to +85degree(s)C. The IC comes in a very small space-saving 2.5mm x 2.5mm WL-CSP. Unit prices start at EUR 2.18/USD 3.05, in volumes of 1000 devices. Samples are available.

Features and Benefits

Compliant

- Supports the IO-Link Specification V1.0 and V1.1

Environmentally robust

- Excellent for harsh industrial environments, -40degree(s)C to +85degree(s)C

Efficient and effective

- Excellent for small and miniaturized sensor or actuator devices
- Cost efficient due to a very small PCB footprint

Streamlined

- Very small 2.5mm x 2.5mm WL-CSP

About ZMDI

Zentrum Mikroelektronik Dresden AG (ZMDI [http://www.zmdi.com ]) is a global supplier of analog and mixed-signal semiconductors solutions for automotive, industrial, medical, information technology and consumer applications. These solutions enable our customers to create the most energy-efficient products in power management, lighting and sensors.

For over 50 years, ZMDI has been globally headquartered in Dresden, Germany. With over 320 employees worldwide, ZMDI [http://www.zmdi.com ] serves its customers with sales offices and design centers throughout Germany, Italy, Bulgaria, France, United Kingdom, Ireland, Japan, Korea, Taiwan and the United States.

See more at www.zmdi.com.

Contacts:

Daniel Aitken, ZMDI Global Director of Corporate Marketing and Communications, T +1-514-831-6722, daniel.aitken@zmdi.com

Related