High-Voltage Isolators are rated up to 15 kV at 80 mm.
Press Release Summary: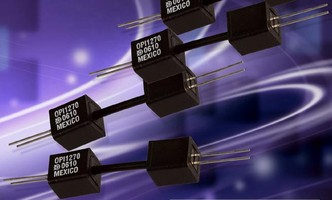 Using plastic optical fiber, OPI1270 Series provides power electronics engineers with means to isolate high voltage I/O circuits over distances from 0.71-3.15 in. These RoHS-compliant axial fiber optic isolators are constructed using visible red (645 nm) LED emitter and phototransistor detector in separate opaque molded plastic modules, linked by shrouded and flexible optical cable that shields optical signal from dust and other contaminations.
---
Original Press Release:

OPTEK's High Voltage Isolator Series Rated up to 15kV at 80mm



Axial fiber optic isolators offered in isolation distances from 18mm to 80mm...

DALLAS, TX (October 31, 2007) - Providing power electronics engineers with a means to isolate high voltage input/output circuits over varying distances, TT electronics OPTEK Technology has developed a series of axial optical isolators using plastic optical fiber. Designated the OPI1270 Series axial fiber optic isolators, the devices are constructed using a visible red LED emitter and a phototransistor detector in separate opaque molded plastic modules, linked by a shrouded optical cable that shields the optical signal from dust and other contaminations.

"For applications that require high voltage isolation - up to 15kV - especially in dirty or contaminated industrial environments, the OPI1270 Series provides an ideal solution," said Alan Bennett, OPTEK Technology's vice president of sales & marketing.

The OPI1270 Series isolators are connected by a flexible optical cable in standard isolation distances of 18mm (0.71"), 26mm (1.02"), 32mm (1.26"), 40mm (1.57"), 66mm (2.60") or 80mm (3.15"). Custom cable lengths are also available and the emitter's design does not require the sensor housings to be in precise optical alignment. The isolator series conforms to UL Standard 1577 (File #E58730).

Applications for the OPI1270 Series isolator include industrial, medical, and office equipment, as well as electrical isolation circuits in harsh environments.

The OPI1270 Series isolators are rated for 15kV and carry a power dissipation rating of 100mW. The AlInGaP LED (emitter) emits red light with a peak wavelength of 645nm, with on-state collector current ranging from 1.2V to 2.3V (IF=20mA) and maximum collector dark current of 80mA (VR=3.0V).

The phototransistor (sensor) exhibits a maximum collector current of 50mA (VCE=10V, EE=0). Collector-emitter breakdown voltage is 33V (min.), and emitter-collector breakdown voltage is 5.5V (min.) (both measured at 100mA, EE=0). The operating temperature range is -20°C to +75°C, and the device is also compatible with high temperature soldering processes of 260°C.

The OPI1270 Series isolators are RoHS-compliant. OPTEK will also produce devices to meet customer requirements, including custom electrical specifications, as well as special connectors or cabling configurations.

Typical pricing for the OPI1270 isolators is approximately $3.22 each in quantities of 10K pieces. Production quantity lead times, if stock is not available, are from 6 to 8 weeks.

For samples of the OPI1270 Series or more technical information, contact TT electronics' OPTEK Technology at 1645 Wallace Dr., Carrollton, TX, 75006; call 972-323-2200, e-mail at sensors@OPTEKinc.com or visit: optekinc.com/products/opto_isolators.asp. In Europe, contact JP Delaporte at info@optek-europe.com. In Asia, contact T.H. Swee at thswee@optekasia.com or call +852-9190-4641.

OPTEK Technology is a leading manufacturer of standard and application-specific sensors using infrared, visible, magnetic and fiber optic technologies focused on applications in office machines, industrial equipment, encoders, automotive electronics, military and high-reliability applications, and medical diagnostic equipment. Headquartered in Carrollton, TX, the company is ISO/TS16949:2002 and BS EN ISO 9001:2000 certified, as well as ITAR registered. OPTEK Technology was acquired by TT electronics in December 2003. TT electronics plc is a global electronics company manufacturing a broad range of advanced electronic components, assemblies and sensor modules for the automotive, industrial, telecommunication, computer and aerospace markets.

More from Test & Measurement