High Voltage Down Converter allows 5-10 kV transmission.
Press Release Summary: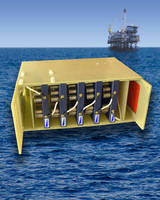 Featuring direct solid-state switching, PowerMod(TM) provides down conversion of 10-20 kW, with conversion to 100-600 V at point-of-load undersea. It maintains 90% efficiency, with constant transmission over length of cable up to 100 km and up to hundreds of kilometers using multiple nodes. Applications include remote undersea powering of motors, data repeaters, instruments for oil exploration, environmental studies, and submersibles.
---
Original Press Release:

High Voltage Down Converter Provides Usable Voltage at Point-of-Load



A new high voltage down converter that allows efficient, long distance high voltage transmission and down conversion at point-of-load undersea is being introduced by Diversified Technologies, Inc. of Bedford, Massachusetts.

The PowerMod(TM) High Voltage Down Converter allows 5 to 10 kV transmission and provides down conversion of 10-20 kW, with conversion to 100-600 V at the point-of-load undersea. Featuring direct solid-state switching, it maintains 90% efficiency, with constant transmission over the length of cable up to 100 km and up to hundreds of kilometers using multiple nodes.

Connected in parallel to maintain constant voltage through the entire length of cable, PowerMod(TM) High Voltage Down Converters incorporate switch-modules which provide over 1-million hours predicted reliability per MIL-HDBK-217F. Applications include the remote undersea powering of motors, data repeaters, instruments for oil exploration, environmental studies, and submersibles.

The PowerMod(TM) High Voltage Down Converter is priced from $100,000 per node. Literature and consultation are provided upon request.

For more information contact:
Diversified Technologies, Inc.
Michael A. Kempkes, VP of Marketing
35 Wiggins Ave.
Bedford, MA 01730-2345
(781) 275-9444, x211 FAX (781) 275-6081
e-mail: kempkes@divtecs.com
www.divtecs.com

More from Test & Measurement