High Voltage CMOS Driver operates with PIN diodes.
Press Release Summary: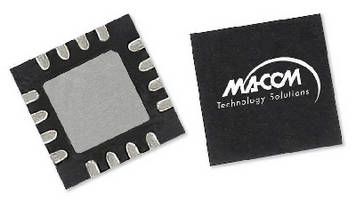 Suited for use in military and commercial radio applications, Model MADR-010574 supports series-shunt and all-series diode designs by biasing 4 diodes simultaneously. Back bias voltage is configurable from 20-250 V, while forward biasing current is configurable up to 200 mA. Housed in 7 mm 16-lead QFN package, Model MADR-010574 has typical delay of less than 8 µs. High voltage level shifters are integrated so that unit can be controlled by 3 or 5 V CMOS logic.
---
Original Press Release:

M/A-COM Technology Solutions Announces New High Voltage CMOS Driver for PIN Diodes



CMOS Driver Exhibits High Voltage and Current Bias in an Industry Leading Small Size

Lowell, MA, - M/A-COM Technology Solutions Inc. (M/A-COM Tech), a leading supplier of high performance analog semiconductor solutions, introduced today a new High Voltage CMOS Driver for PIN diodes for use in military and commercial radio applications. The MADR-010574 is designed to work with M/A-COM Tech's high power and high voltage PIN diodes. This driver supports series-shunt and all-series diode designs by biasing four diodes simultaneously. The back bias voltage is configurable from 20 V to 250 V, while the forward biasing current is configurable up to 200 mA. High voltage level shifters are integrated so that it can be easily controlled by 3 V or 5 V CMOS logic.

While consuming low quiescent current, the MADR-010574 has a typical delay of less than 8 µs. If needed, the switching speed can be further improved by consuming more quiescent power. The driver is packaged in a lead free 7 mm 16-Lead QFN package and is available in tape and reel packaging for high volume applications.

"The MADR-010574 will set an industry standard in terms of versatility, functionality and size" said Scott Vasquez, Product Manager. "This device outperforms the competition and saves inches of board space on space challenged applications such as military and commercial radios. In addition, the applications for this driver are numerous and can be used in any environment that requires high voltage and current bias for PIN diodes."

The table below outlines typical performance:


Parameters                           Units               Typ 

VCC                                Nominal VCC =3.3V     3.3

                                   Nominal VCC =5.0V     5.0

Series 1/Series 2 Sinking Current      mA (@25°C)        200

Vr                                      V                250

If                                      mA               170

Package                        7mm 16-Lead QFN

ABOUT M/A-COM TECHNOLOGY SOLUTIONS INC.
M/A-COM Technology Solutions (www.macomtech.com) is a leading supplier of high performance analog semiconductor solutions for use in radio frequency (RF), microwave, and millimeter wave applications. Recognized for its broad portfolio of products, M/A-COM Tech serves diverse markets, including CATV, wireless infrastructure, optical communications, aerospace and defense, automotive, industrial, medical, and mobile devices. M/A-COM Tech builds on more than 60 years of experience designing and manufacturing innovative product solutions for customers worldwide.

Headquartered in Lowell, Massachusetts, M/A-COM Tech is certified to the ISO9001 international quality standard and ISO14001 environmental management standard. M/A-COM Tech has design centers and sales offices throughout North America, Europe, Asia and Australia.

M/A-COM, M/A-COM Technology Solutions, The First Name in Microwave and the M/A-COM logo are trademarks of M/A-COM Tech. All other trademarks are the property of their respective owners.

FOR SALES INFORMATION, PLEASE CONTACT:

North Americas -- Phone: 800.366.2266

Europe -- Phone: +353.21.244.6400

India -- Phone: +91.80.43537383

China - Phone: +86.21.2407.1588


MEDIA CONTACT:

Husrav Billimoria

M/A-COM Technology Solutions Inc.

978-656-2896

Husrav.Billimoria@macomtech.com

More from Services