High-Torque Servo Motor Brakes come in over 140 models.
Press Release Summary: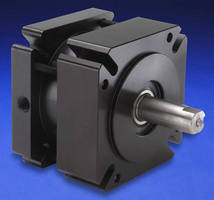 Offered in NEMA 23, 34, and 42 frame sizes for servo motors up to 20 hp, Eclipse® spring-engaged, air-released, flange-mounted servo motor brakes offer torque from 2–125 Nm to provide responsive and dynamic stopping and holding power. Respective flange sizes and shaft diameters are 2.25–10.43 in. square and 0.25–1.89 in., and zero backlash design ensures accurate positioning. Able to hold loads in place during servo motor change-outs, low-inertia brakes are rated for speeds up to 10,000 rpm.
---
Original Press Release:

Nexen Expands Line of High-Torque Servo Motor Brakes to over 140 Models



Vadnais Heights, MN — Nexen Group, Inc. has launched an expansion of their Eclipse® line to offer more than 140 variations of spring-engaged, air-released servo motor brakes for a wider range of servo motors. Eclipse brakes offer four times the torque of internal servo motor brakes, and offer at least 20-50% more torque than competitive brakes, providing greatly enhanced holding power for demanding applications.



The Eclipse line offers flanges ranging from 57 mm (2.25 in) to 265 mm (10.43 in) square and shaft diameters from 6,35 mm (0.25 in) up to 48 mm (1.89 in). Nexen offers their expanded range of low-inertia brakes for all major servo motor models up to 20 HP.



"The Nexen Servo Motor Brake design is elegantly simple, sturdy and sound," said Edd Brooks, Senior Technical Sales Representative, Nexen Group Inc. "This flange mounted brake is confidently applied by engineers in most industries and out-performs all competitive brakes. This is a product that is easy to apply and performs beyond expectations."



The new models offer advantages to a more diverse range of industrial applications including packaging machinery, food production, machine tools, conveying systems, CNC machining centers, automotive production equipment, and woodworking. The holding power and positioning accuracy of Eclipse brakes also complement Nexen Roller Pinion System (RPS) systems.



Other features of Nexen Eclipse servo motor brakes include:

High-torque (2-125 Nm)

NEMA 23, 34, and 42 frame sizes

High torsional rigidity

Long facing life

True zero backlash for accurate positioning

Speeds up to 10,000 RPM



Eclipse brakes are designed to provide responsive and reliable dynamic stopping and holding power for many different industrial applications, can withstand repeated E-stops, and are able to hold loads in place during servo motor change-outs. Eclipse brakes use no power, generate no heat while engaged or disengaged, and require no maintenance.



Nexen Group, Inc., is a leading manufacturer of precision motion control solutions including linear drive systems, precision rotary indexers, linear locking components and power transmission products including spring set brakes, tooth clutches and torque limiters for a wide variety of automation applications in the Aerospace, Robotics, Machine Tool, Automotive, Packaging, Material Handling and Medical Industries. For more information, contact Nexen Group, Inc., 560 Oak Grove Parkway, Vadnais Heights, MN 55127. Fax: 651-286-1099. Phone: 651-484-5900. E-mail: info@nexengroup.com. Website: nexengroup.com

More from Communication Systems & Equipment