High Tensile Strength Studs are made of carbon alloy steel.
Press Release Summary: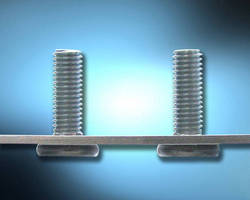 Available in thread sizes up to 5/16-18 or M8 and in lengths up to 1 in. or 25 mm, PEM® Type HFG8(TM) (unified) and HF109(TM) (metric) heat-treated clinch studs achieve tensile strength up to Grade 8 and Property Class 10.9, respectively. RoHS compliant fasteners can be installed permanently in carbon steel or HSLA steel sheets as thin as .040 in. with hardness up to HRB 89 on Rockwell B scale. Studs are installed without welding, using standard punch and anvil or automated equipment.
---
Original Press Release:

PEM® High Tensile Strength Studs Offer Superior Thread Strength and Hardness



New PEM® high tensile strength studs provide robust fastening solutions for the most demanding applications requiring superior thread strength and hardness. These Type HFG8(TM) (unified) and Type HF109(TM) (metric) clinch studs are specially heat-treated to achieve greater tensile strength up to Grade 8 (unified) and Property Class 10.9 (metric) meeting 150 ksi/1040 MPa minimum. Their large-diameter heads serve to reduce compressive stress on panels and promote development of full thread strength.

These carbon alloy steel studs have been introduced in thread sizes up to 5/16-18 / M8 and in lengths up to 1" / 25mm. (Longer lengths can be specially ordered.) Appropriate sizes of the Grade 8 and Property Class 10.9 products meet SAE J429 and ISO 898-1/SAE J1199 specifications, respectively. They additionally carry the appropriate head markings.

The studs install permanently in carbon steel or HSLA steel sheets as thin as .040" / 1.5mm with hardness up to HRB 89 on the Rockwell "B" scale. Installation is accomplished easily (without welding) using standard punch and anvil or automated equipment. The studs enable reliable, secure, and simplified attachment of components or assemblies with only a mating part necessary to complete the process.

Detailed specifications (Bulletin HFG8) and free part drawings (PEM CAD Library) for these RoHS-compliant fasteners can be accessed at www.pemnet.com


More from Fasteners & Hardware