High Temperature Filter Elements suit biomass gasification.
Press Release Summary: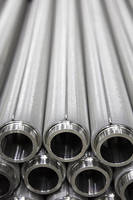 High temperature filters feature metallic filter elements. Metallic filter material permits higher temperature duties to be considered as required for biomass gasification, and Pulsejet design enables biomass gasification filter cakes to be removed effectively to ensure continuous on-service performance.
---
Original Press Release:

High Temperature Filter Elements for Use in Biomass Gasification



Porvair Filtration Group has expanded its range of high temperature filters with the introduction of metallic filter elements optimised for biomass gasification.



High temperature filtration in the biomass gasification process is a demanding application. The efficiency of the thermochemical conversion process and the subsequent emission control are highly important areas in the development of environmentally sound and sustainable technology. Both are highly important for biomass combustion and gasification plant design, operation and economy.



Biomass gasification processes are characterised by the use of increasingly higher temperatures and a contaminant that in some ways is more challenging due to its inherent cohesivity and adhesivity making it more difficult to be removed as a filter cake during in situ cleaning. Proprietary metallic filter material developments by Porvair Filtration Group have permitted these higher temperature duties to be considered and changes to the Pulsejet design now enable biomass gasification filter cakes to be removed more effectively thus ensuring continuous on-service performance.



Biomass gasification involves incomplete combustion of biomass resulting in production of combustible gases consisting of Carbon monoxide (CO), Hydrogen (H2) and traces of Methane (CH4). This mixture is called producer gas. Producer gas can be used to run internal combustion engines (both compression and spark ignition), and can be used as a substitute for furnace oil in direct heat applications. It can also be used to produce, in an economically viable way, methanol – an extremely attractive chemical which is useful both as fuel for heat engines as well as chemical feedstock for industries. Since any biomass material can undergo gasification, this process is more attractive than ethanol production or biogas where only selected biomass materials can produce the fuel.



For over 25 years, Porvair Filtration Group has provided integrated filtration packages and individual filter vessels and housings for a wide range of applications in the energy market. These include distribution of natural gas, conditioning and treatment of fuel oils, hydrocarbons and produced water, clean coal technologies, biomass gasification and fuel cell technology. The clean-up of biomass gasification processes by the filtration of particulate using the latest separation techniques, ensures that the cost of ownership to the production companies is minimised, the availability of clean producer gas is ensured and the impact to the environment is minimised. The contaminant removal is achieved through the combination of centrifugal separation forces in cyclones and filter or coalescer cartridges, to finely separate the contaminants remaining. Porvair Filtration Group is one of the few companies able to bring the necessary expertise of mass reduction technology with high efficiency filtration in an innovative two-stage separation plant. Porvair Filtration Group operate high levels of quality control under the umbrella of ISO9001, this encompasses the requirements of PD5500, ASME VIII, EN13445 and PED for the pressure vessel build, as well as industry related standards.



For further information on metallic filter elements to optimize biomass gasification processes please contact Porvair Filtration Group on +44-1489-864330 / +1-804-550-1600, or email info@porvairfiltration.com.



Porvair Filtration Group is an international leader in the development and supply of materials and products for applications in filtration and separation. Their expertise in a wide range of media and the dedication of their design, manufacturing, sales, test and research teams ensure they are at the forefront of filtration technology, delivering world class performance to the Aerospace, Defense, Nuclear, Energy, Chemical Process, Industrial Process, Water Treatment, Printing and Medical / Life Science markets. With offices and manufacturing sites located in the UK, Europe and the USA combined with a world-wide network of market representatives and distributors; they pride themselves on their continuous innovation and research to meet global demands.

More from Software