High-Temperature Epoxy cures at room temperature.
Press Release Summary: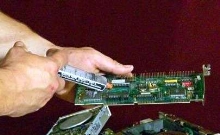 Suited for potting, encapsulation, sealing, and bonding, Polymer System EP39MHT exhibits electrical insulation and chemical inertness for service up to 450°F. This 2-component system cures at ambient or elevated temperatures, is 100% reactive, and contains no VOCs. Able to bond similar and dissimilar substrates, cured product is thermoset solid featuring resistance to thermal and/or mechanical shocks and can be color-coded to facilitate processing.
---
Original Press Release:
New Room Temperature Curing, High Temperature Resistant Epoxy

Master Bond Polymer System EP39MHT is a unique high performance epoxy compound which combines easy processability with outstanding physical strength properties, superior electrical insulation and chemical inertness for service up to 450°F. It is a two component system which cures readily at ambient or more quickly at elevated temperatures. The cured epoxy is a tough strong thermoset solid featuring desirable physical, electrical and chemical characteristics together with outstanding resistance to thermal and/or mechanical shocks. It is 100% reactive and does not contain any volatiles. Master Bond Polymer System EP39MHT has proven especially attractive for potting, encapsulation, sealing and bonding applications. As it develops very little heat during the curing reaction, it has been found to be particularly useful for potting or encapsulation of thick sections with complicated configurations up to several inches as well as thin sections with the need for minimal shrinkage and stress development. It can be color coded to facilitate processing.

Master Bond Supreme EP39MHT is based on a novel polyfunctional epoxy resin and a newly developed hardener composition which makes possible both the attainment of ambient temperature cures and the development of outstanding thermal stability up to 450°F. Adhesion to both similar and dissimilar substrates such as metals, glass, ceramics, woods, vulcanized rubbers and many plastics is excellent. The volume resistivity of the cured epoxy exceeds 1012 ohm cm at 75°F. Service temperature range extends from -80°F to +450°F. Master Bond Polymer System EP39MHT has found wide acceptance in the electronic, electrical, computer, optoelectronic, aerospace, appliance, metalworking, automotive and chemical industries. It is available in pints, quarts, gallons, 5 gallon pails and drums.

For further information, please contact our Technical Support Department.

USA & Canada

Phone: 201-343-8983

Fax: 201-343-2132

E-mail: technical@masterbond.com

Asia, Central and South America Western U.S and Western Canada

Phone: 818-793-5605

Fax: 201-696-9031

Email: catech@masterbond.com

Eastern and Western Europe and Africa

Phone:+44-207-039-0034

Fax: +44-207-060-0628

E-mail: eutech@masterbond.com

Middle East

Phone: 972-2-652-8384

Fax: 972-2-652-8402

E-mail: meda@masterbond.com
More from Adhesives & Sealants