High-Temperature Dual Op-Amps suit down hole, harsh environments.
Press Release Summary: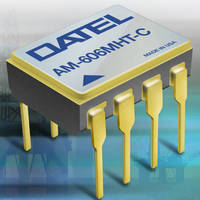 Operating from -55 to +200°C (depending on chosen grade), AM-606HT series features 28 MHz gain bandwidth and 250 V/µsec slew rate and can settle to 0.01% in <180 nsec while delivering dynamic performance for harsh environment systems. DC performance includes <1.5 mV offset, voltage noise density below 8 nV/√Hz, and total supply current of <10 mA. Offered in 8-pin hermetically sealed ceramic DIP (MHT) or Gull-Wing SMT (GHT) package, series delivers >1,000 hr operating life.
---
Original Press Release:

High Temperature Dual Operational Amplifiers for Down Hole and Harsh Environmental Applications.



DATEL, Inc. has announced the introduction of the AM-606HT series, a new line of harsh environment amplifiers that are developed and manufactured using processes that originate with DATEL's MIL-PRF-38534 standards and controls. These standards have been extended and increased to meet the demanding -55 to +200°C operating temperature ranges.



The AM-606HT has a gain bandwidth of 28MHz, a slew rate of 250V/µs and can settle to 0.01% in less than 180ns while delivering excellent dynamic performance for harsh environment systems. The DC performance of the AM-606HT includes less than 1.5mV of offset, a voltage noise density below 8nV/√Hz and a total supply current under 10mA.



Offered in either a standard 8-pin hermetically sealed ceramic DIP (MHT) or Gull-Wing SMT (GHT) package, the AM-606HT is a dual, high speed, precision operational amplifier specified for operation up to +200°C. This family of extended temperature amplifiers are designed and qualified to provide more than 1,000 hours of operating life. The series is offered in three temperature grades: A (-55 to +150°C), B (-55 to +180°C) and C (-55 to +200°C).



Samples are available upon request.



In addition to our standard product offerings, DATEL is a leader in providing System-in-a-Package Solutions (SIP) for all special applications and Pin-to-Pin replacements for any existing or obsolete component.



To download product data sheet go to www.datel.com/data/ads/am-606ght.pdf



For further product information contact:

DATEL, Inc.

11 Cabot Boulevard, Suite 200

Mansfield, MA 02048

Tel: 508-964-5397

Email: jimhornsby@datel.com



About DATEL, Inc.

DATEL is an employee owned US-based company that is dedicated to the military and aerospace market solutions. For several decades DATEL has worked closely with defense and Hi-Rel companies to provide fully qualified and MIL Certified 883 components that meet customers' specific and stringent application requirements.



DATEL data acquisition products are designed and manufactured in an 180,000 square-foot, MIL-PRF-38534 hybrid certified fabrication facility located in Mansfield, Massachusetts, USA. The data acquisition product offering has grown to become one of the industry's broadest, designed to meet the ever-changing requirements of military, HI-REL, medical, scientific and industrial applications. DATEL are ISO-9001 certified, and ITAR registered.

Related