High Temperature Blender offers blend rates to 2,000 cfh.
Press Release Summary: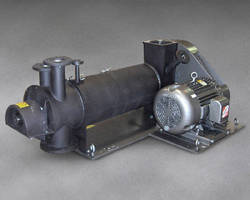 Able to achieve homogenous blends in 15-60 sec, HM-165-AR Continuous Blender mixes asphalt, paints, resins, adhesives and other abrasive, sticky, or tacky compounds, slurries, emulsions, and pastes that require high heat to maintain consistency. Unit's horizontal, cylindrical vessel with single agitator is supported by externally mounted flange block bearings. Consisting of solid shaft with 180° adjustable paddles, agitator offers variable speeds to 3,600 rpm, depending on application.
---
Original Press Release:

High Intensity, High Temperature Blender



UTICA, NY - A new high temperature, high intensity continuous blender, Model HM-165-AR from Munson Machinery, mixes asphalt, paints, resins, adhesives and other abrasive, sticky or tacky compounds, slurries, emulsions and pastes that require high heat to maintain consistency.



The unit's horizontal, cylindrical vessel with a single agitator is supported by externally-mounted flange block bearings.  It can blend at rates to 2000 cu ft/h (57 cu m/h) without sacrificing retention time for homogeneous blending or coating. Injection ports are available for large additions of high- and low-viscosity liquids.  Homogeneous blends can be achieved in 15 to 60 seconds residence time depending on material characteristics. 



The blender and motor are mounted on a common support base.  The standard blender drive is a multiple "V" belt and sheave arrangement. Agitator speeds can be varied to 3600 RPM depending on application. Optional gear-reduced drives and/or HD gear-belt drives are available for reduced speed, high-torque requirements.  All drives are furnished with totally enclosed guards.



The internal agitator is a large-diameter, solid shaft with 180°-adjustable paddles for varying degrees of blending intensity.  The shaft design allows the units to be customized with a variety of paddles.



The blender can be fabricated of carbon steel, #304 and #316 stainless steel, abrasion-resistant steel and Hastelloy or other exotic alloys, and the paddle faces can be hard-faced or titanium nitride coated for extreme wear conditions. The unit can also be equipped with outboard-mounted pillow block-style bearings and stuffing box-style air purge seals.



For carbon steel and abrasion-resistant steel construction, high temperature black paint is standard. 



Other mixing and blending machinery offered by the company includes Rotary Batch Mixers, Ribbon/Paddle/Plow Blenders, Vee-Cone Blenders, Fluidized Bed Mixers, Rotary Continuous Mixers and High Intensity Blenders. Size reduction equipment includes Screen Classifying Cutters, Pin Mills, Attrition Mills, Lump Breakers, Rotary Knife Cutters, Hammer Mills and Shredders.



For information contact Munson Machinery Company, Inc., 800-944-6644, info@munsonmachinery.com, www.munsonmachinery.com

More from Construction Equipment and Supplies