High-Temp UV Flame Detector responds rapidly to fires.
Press Release Summary: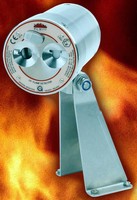 Able to recognize fire within 100 msec, FL3111HT UV Flame Detector senses flames only in UV spectral range, operates in temperatures up to 257ºF, and has 4-20 mA stepped output. Design incorporates continuous optical path monitoring (COPM) technology, which performs self-checks for optical path integrity and electronics once every minute to ensure proper operation. Electronics, fully separated from Exe wire compartment, are contained within SS, explosion-proof housing.
---
Original Press Release:

High-Temperature UV Flame Detector Responds Rapidly to Fires



Ideal for Gas Turbines, Power Generation Plants, Generator Sets, Compressor Stations, Chemical Processing, Solvent Extraction, Drying Processes, Paint Booth Systems

LAKE FOREST, CA-May 1, 2008--With a highly responsive ultraviolet (UV) flame sensor and advanced signal processing, the new high-temperature FL3111HT UV Flame Detector from General Monitors operates in temperatures up to 125ºC (257ºF), which makes it suitable for use in demanding process and plant environments. To achieve the FL3111HT's high temperature rating, the instrument features a uniquely designed UV flame detector and electronic components that operate with very low power consumption to reduce detector self-heating.

The highly responsive FL3111HT senses flames only in the UV spectral range, which allows it to recognize a flame within 100 milliseconds. For superior reliability, the FL3111HT's design features continuous optical path monitoring (COPM). The FL3111HT's COPM circuitry self-checks the optical path integrity and electronics once every minute to ensure proper operation. This self-diagnostic feature helps ensure the FL3111HT's sensor window is clean and ready to monitor potential flame conditions.

The FL3111HT is designed for use in a wide range of applications. Its high reliability, superior performance and rugged packaging make it suitable for use in electric power generation, gas turbines, generator sets, natural gas compressor stations, solvent extraction and other chemical processes, drying applications and paint spray booths in large automotive and other manufacturing operations.

The FL3111HT's electronics are integral within its stainless steel explosion-proof housing, allowing detector information to be processed at the point of detection. The electronics are fully separated from the Exe wire compartment, offering protection during installation and service. The FL3111HT has a 4-20 mA stepped output.

The FL3111HT is compatible with the General Monitors 02A-series cards, which allows it to be integrated within a complete gas and flame safety monitoring system. The detector has ATEX approval and the CE Marking.

About General Monitors

Founded in 1961, General Monitors is a leading-edge manufacturer of combustible gas, toxic gas and flame detection monitoring products of the highest quality. The company has been third-party certified to ISO 9001:2000 requirements. Corporate headquarters in Lake Forest, California comprise a modern engineering design center, R&D, manufacturing, sales and service complex. A facility in Galway, Ireland supports the EU with engineering design, R&D and manufacturing. Sales and service offices are maintained in Houston, Texas, Singapore, the United Arab Emirates, and the United Kingdom.

Company Contact: Angela Sauceda · MARCOM Mgr · Tel: 949-581-4464 · Email: etech@generalmonitors.com

Agency Contact: Randy Brown · Tel: 909-335-1941 · Email: brownr@rbmarketing.com

Product Brochure: www.generalmonitors.com/downloads/literature/flame/FL3111HT_DATA.PDF

Web: www.generalmonitors.com · Tel: 1-800-330-9161 · Tel: 949-581-4464 · Fax: 949-581-1151

Company Address: General Monitors · 26776 Simpatica Circle, Lake Forest, CA 92630

More from Sensors, Monitors & Transducers