High-Tech Plus Skilled Craftsmanship Help the Desert Snow Program Honor our Nation's Finest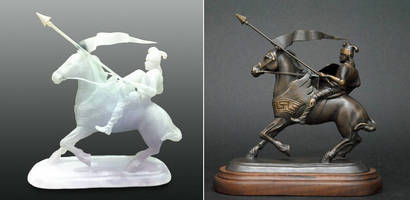 3-Dimensional Services teamed with Applications 3D and employed its rapid prototyping expertise to honor outstanding law enforcement officers.



Though they usually do their work with automated, high-tech machines and advanced software, the technicians at 3-Dimensional Services in Rochester Hills, MI, like to think of themselves as craftsmen. This was in evidence recently when they were asked to pitch in and help on a project designed to honor outstanding law enforcement officers.



The project was the brainchild of the folks at the Desert Snow Training Program. This program has provided the law enforcement community with top quality interdiction training since 1989. Together with its partners at the Black Asphalt networking site they have helped officers apprehend and remove thousands of criminals from our streets and communities.



Desert Snow's history and mission is represented by its symbol, a knight riding a horse into battle. This is a bronze sculpture that is felt to epitomize the program's essence. During its annual conventions Desert Snow honors many individual law enforcement officers for their work. Since the knight sculpture symbolizes the qualities which the organization honors, it was decided to present it to the most outstanding honorees during these annual ceremonies.



The problem, though, is that the sculpture is one of a kind and rather large, so Desert Snow would need multiple smaller replicas. It was decided to reverse engineer the sculpture to make a new cast for creating multiple smaller bronze copies of the original. They called on Applications 3D.



Applications 3D is a Rochester Hills, MI, firm that provides expert services in 3D scanning, reverse engineering, inspection and quality control, CAD, and product design and development. "We were asked to provide the 3D scanning, reverse engineering and 3D Development for this project," says Raminder Bhatia, President of Applications 3D.



The 3D scanning was done using Applications 3D's advanced Steinbichler Comet 5 white light scanning system. This high resolution digitizing machine facilitated the collection of tens of millions of highly accurate x,y,z points on the surface of the sculpture. These points were then meshed together into a triangular polygon model.



Since there was a lot of intricate detail in the sculpture, and some of the required areas were hidden from the scanner's access, the resulting polygon model needed to be digitally modeled.



This digital shape modeling was done in the state of the art Geomagic Studio software. Geomagic is a leading provider of 3D software for creating digital models of physical objects for reverse engineering, product design, inspection and analysis.



"In Studio, the scanned polygon model was first optimized, decimating the points on the flatter areas, while keeping a larger number of points on the sharper, more featured areas," notes Bhatia. "During this process, other abnormalities in the data were also repaired, and the model was scaled down in size to the smaller required size." Any missing data was filled in using curvature continuity methods, so that the missing areas were represented as close to the original as possible. The result was an extremely accurate STL model. This is a triangular mesh model that is stored in an "*.stl" format from which it can be converted into a 3D CAD model.



The next step was the creation of the actual physical model to be used as a pattern for making the bronze production cast of the sculpture. The challenge at this stage was to accurately build all the finer details in the model. At this point Applications 3D partnered with 3-Dimensional Services, the industry leader in rapid prototyping and 3D printing.



3-Dimensional Services, a member of the 3-Dimensional Services Group, Rochester Hills, MI, specializes in design, engineering and analysis, in-house tool construction, and complete build of first-off prototype parts and low to medium volume production runs. Their use of advanced process methods and manufacturing technologies, plus the expertise of their staff, mean that prototype parts – not just models -- are typically provided up to 70% faster than conventionally equipped prototype shops are able to offer.



Technology plus craftsmanship

"The actual pattern was made by using the finished STL model to 3D print a physical SLA (stereolithography apparatus) model," says Scott Duffie, Senior Sales Engineer for 3-Dimensional Services. The company used one of its two SLA 500 machines on this job. An SLA's laser beam cures light sensitive polymers into the shape of the part.



"Since this was a highly complicated and intricate task," continues Duffie, "the advanced techniques and years of skill and experience of our people came in handy during this process." He points to the fact that the physical model was built by 3-Dimensional Services in a day and a half – the sort of quick and accurate work the firm has built its reputation on.



Next, however, came another and often unnoticed, aspect of the firm's talents. "Clean up, which was largely hand sanding, took about four days. This required an eye for details and a steady hand. That's because there is a lot of fine detail on the piece, as well as shaded or partially hidden areas, so you can't just stand there and sand away as if it were an everyday home improvement project. I refer to it as artisan work. Fortunately our people take as much pride in their craftsmanship as they do in their technical expertise, so we were able to provide the fine and uniform finish the piece required."



It was this SLA model that was then used by the bronze cast maker as a pattern to make the tool for producing the smaller sized sculptures for the award ceremony. "Thanks to the work of Applications 3D and 3-Dimensional Services we were able to provide these illustrious law enforcement officers with a worthy symbol of appreciation for their outstanding service," says Dave Frye, Director of Training for Desert Snow.



The 3-Dimensional Services Group, consisting of 3-Dimensional Services, Urgent Plastic Services, and Urgent Design & Manufacturing, provides rapid prototyping low-volume production that include laser processing, injection molding and casting, stamping, machining, robotic and manual welding, waterjet, hydroforming, tube bending, vibration welding, casting and pattern fabrication, RIM tooling, SLA and LOM rapid modeling, and assembly.

More from Software