High-Speed Wire EDM utilizes high speed oil dielectric.
Press Release Summary: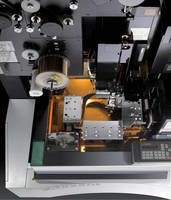 Designed for manufacture of precision dies and parts, linear motor driven AP250L offers capability to use oil dielectric. Eco-Cut O Technology enables accelerated parts machining when using oil dielectric, and bridge design promotes positioning and machining accuracy. Able to accommodate up to 15.7 x 10.6 x 3.9 in. workpieces, EDM offers respective X, Y, and Z axis travels of 9.8, 5.9, and 4.7 in.
---
Original Press Release:

Sodick Releases New Oil Technology Wire EDM



Sodick, Inc., a manufacturer of EDM technology, has released the AP250L Wire EDM. The AP250L was first displayed at IMTS 2010 and drew in a large crowd of interested attendees due to its capability to use oil dielectric and maintain incredible machining speeds.

The AP250L features Sodick's all new Eco-Cut O Technology. Using Eco-Cut O Technology enables the EDM to reduce the time required to manufacture precision dies and parts. It also increases productivity and reduces energy consumption. When using oil dielectric, this new technology enables the EDM to machine parts faster than that of water dielectric, or standard oil dielectric. "Oil Technology is nothing new to Sodick, Eco-Cut O Technology is. Eco-Cut O Technology has enabled the use of oil dielectric at speeds of water dielectric, or faster," said Tom Gilbert, Applications Manager.

With this new technology, users are now able to get the optimal surface finish of oil dielectric with the speeds of water dielectric. Using Eco-Cut O Technology a user can increase machining speeds up to 12% over water dielectric and up to 25% over conventional oil dielectric.

The entire concept of EDMing using oil technology is nothing new to Sodick. Sodick has had this technology for over 25 years, 1981 to be exact. Water dielectric became the industry standard for many years mainly due to the speed factor when cutting in water. Oil was always presumed to be a slower alternative. "Oil dielectric doesn't have to be slower than water dielectric. It depends on the application being used," added Gilbert "with our new Eco-Cut O Technology, oil dielectric actually speeds up the cutting process due to the accuracy and surface finish being obtained at a faster pace requiring less cuts to be made to the part."

The AP250L is in Sodick's AP Series of machines. The AP Series is a linear motor driven, high precision, high speed Wire EDM line. The AP250L features a bridge design which has vast improvements in positioning and machining accuracy. The AP250L has an X, Y, Z axes travel of 9.8" x 5.9" x 4.7". It can accommodate a workpiece up to 15.7" x 10.6" x 3.9" (W x D x H). The AP250L features Sodick's 10-Year Positioning Guarantee.

Sodick Inc., established in 1976, has sold over 50,000 EDMs worldwide and has had over 25,000 linear motor EDM deliveries. Sodick machines are used for the production of dies and molds and other various applications that cannot be produced by standard machining methods. Sodick has three ISO certified manufacturing facilities with over 3,100 employees worldwide and technical centers located in Chicago, New Jersey and California. Sodick offers the industry's first 10-year positioning guarantee on all of its linear motor driven EDMs.

For more information contact:
Sodick, Inc.
1605 N. Penny Lane
Schaumburg, IL 60173
847-310-9000
info@sodick.com
www.sodick.com

More from Sensors, Monitors & Transducers