High-Speed System advances microsphere capability.
Press Release Summary: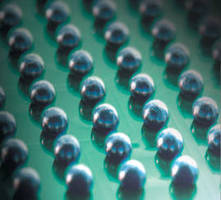 Able to achieve accuracy and precision at first pass yield of over 99.99%, DirEKt Ball Placement(TM) process enables accurate solder sphere deposition for spheres as small as 200 µm dia with pitches as tight as 300 µm. Parallel print process allows for repeatable accuracy and accelerated cycle times independent of I/O count. Consistent with requirements for next-generation wafer-level CSP devices, system utilizes 2 side-by-side print platforms and can process as many as 45 wafers/hr.
---
Original Press Release:

DEK's DirEKt Ball Placement Technology Advances toward Microsphere Capability



Extending its capabilities for placing solder spheres at high speed, DEK's proven DirEKt Ball Placement(TM) process now enables accurate solder sphere deposition for spheres as small as 200µm in diameter with pitches as tight as 300µm. With the ability to achieve this accuracy and precision at a first pass yield of over 99.99%, DirEKt Ball Placement delivers the speeds necessary for modern package manufacture without sacrificing anything in the way of performance.

Unlike alternative methods that employ serial approaches for placement of solder balls, the parallel print process of DirEKt Ball Placement allows for unmatched, repeatable accuracy and exceptionally fast cycle times which are completely independent of I/O count. While these statistics are arguably impressive and consistent with requirements for next-generation wafer-level CSP devices, DEK is also upholding its pledge to continuously enhance DirEKt Ball Placement capability.

As part of this commitment, the mass imaging leader has designed the Galaxy Thin Wafer System, a high-accuracy print platform capable of meeting the demands of thinned wafer processes and precision microsphere ball placement. The system's newly engineered wafer pallet, which is flat to less than 10µm with the ability to accommodate wafers as large as 300mm and as thin as 75µm, is the foundation for advancing sphere placement processes to the next-generation.

"While we have achieved 99.99% repeatable first pass yield with 200µm balls at 300µm pitch in high-volume production, even more highly miniaturised spheres have been successfully placed in a lab environment, with work ongoing to prove the process in the field," says DEK's Semicon and Alternative Applications Manager, David Foggie. "Our active development program to deliver sub-100µm microsphere placement is well underway, with early results delivering an exceptionally high first-pass yield"

The DirEKt Ball Placement system utilises two side-by-side print platforms, with the first system using flux imaging technology to precisely deposit flux at each interconnect site. The second printer, a Galaxy Thin Wafer System equipped with an advanced enclosed sphere transfer head capable of holding up to 100 million solder balls, then accurately seats each ball into the flux. Enabled by the enhanced stability and security of the Galaxy Thin Wafer System, DEK's DirEKt Ball Placement technology can process as many as 45 wafers per hour.

"High UPH microsphere placement is clearly the cost-effective way forward for wafer-level CSP manufacture," concludes Foggie. "DEK's DirEKt Ball Placement system delivers the precision, repeatability, platform flexibility and low cost of ownership commitment necessary for advancement of this critical packaging technology."

About DEK

DEK is a global provider of advanced materials deposition technologies and support solutions including printing equipment platforms, stencils, precision screens and mass imaging processes used across a wide range of applications in electronics pre-placement subassembly, semiconductor wafer manufacture, and alternative energy component production. For more information, visit DEK at www.dek.com.

Company Contact
Karen Moore-Watts
DEK
Tel: +44 1305 760760
Email: kmoore-watts@dek.com
Internet: www.dek.com

More from Cleaning Products & Equipment