High-Speed, Servo-Driven Spin Welder joins small-diameter parts.
Press Release Summary: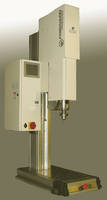 Capable of orienting part halves relative to each other with positioning accuracy of ±1.0°, HS-OSW runs up to 7,000 rpm and targets manufacturers of components with diameters down to 0.125 in. Dual-speed proportional valve allows pneumatic pressure control, enabling user to program individual settings for initial part approach speed, contact pressure, weld pressure, and cooling pressure in pass code-protected memory. Other features include 6 in. color touchscreen UI and modular design.
---
Original Press Release:

Forward Technology Launches High-Speed Servo Spin Welder for Joining of Small-Diameter Parts



HS-OSW Model Combines Speed, Precision, and Finesse for Small Part Welding For Medical, Automotive, and Industrial Applications



COKATO, Minn. — Forward Technology, a leading manufacturer of standard and custom plastic welding equipment and testing systems, has announced the introduction of a new high-speed orientation spin welder designed for smaller diameter and more difficult applications that require delivery of rotational speed at high precision. The unique spin welder is targeted for manufacturers of small-diameter components (down to 0.125-in/0.08-mm) such as fittings, tubing, and fuel lines for the medical, automotive, and industrial markets.



The HS-OSW is a servo-driven spin welder that is capable of orienting part halves relative to each other with a positioning accuracy of +/- 1.0 deg. Exact start (home) and stop (final orientation) points can be programmed and precisely controlled. "The new HS-OSW is a unique welding solution which combines high speed and precision for small parts; it complements our extensive line of pneumatic and servo-controlled spin welders," said Scott Olson, inside sales manager for Forward Technology.



The HS-OSW runs up to 7000 rpm, unlike standard servo models which operate at up to 4000 rpm. It features an innovative dual-speed proportional valve for pneumatic pressure control, allowing the user to program individual settings for initial part approach speed, contact pressure, weld pressure, and cooling pressure in pass code protected memory. This capability reduces cycle time by 20% compared to standard single-pressure, servo models and also improves repeatability.



A six-inch color touchscreen serves as an effective user interface with an integral programmable operator control station which simplifies parameter input and allows a range of measurements to be displayed. These include rpm, weld mode, weld distances, hold time, pressure, resettable parts counter, and total machine cycle counter.



A modular design allows adaptability to a variety of production configurations. Controller height can be repositioned or removed from the press and relocated to a user preferred position. Zero-force cycle activation switches reduce operator fatigue compared to mechanical start switches.



Forward Technology has been a designer and manufacturer of spin welders since 1993. The company offers a broad product line ranging in maximum speeds up to 16,000 rpm and available in both heavy-duty servo-electric (orientation based) and pneumatic (inertial based) models for a wide array of applications.



Forward Technology, a company of the Crest Group, designs and manufactures one of the broadest portfolios of standard and customized plastic assembly and testing systems specifically targeted for thermoplastics. The product line includes systems for hot plate welding, vibration welding, infrared welding, spin welding, and ultrasonic welding as well as systems for burst testing and custom leak testing.



About Forward Technology

Forward Technology is a world-class manufacturer that designs and builds one of the widest available arrays of standard and customized plastic assembly and testing systems specifically targeted for thermoplastic parts. The company is located in Cokato, Minn. with a satellite Service Center in Sterling Heights, Mich. Forward Technology is a unit of the Crest Group - a multinational corporation comprised of several entities (some with similar offerings) who share ideas and technological developments to enhance and expand the capabilities of the entire Crest Group Company. To visit our parent company's website, go to: www.crest-ultrasonics.com



Forward Technology manufactures systems for hot plate welding, vibration welding, infrared welding, spin welding, and ultrasonic welding, as well as burst testing and custom leak testing. The company can incorporate standard core technology into an automation system, including robotic capabilities, to meet specific requirements. For more information, visitwww.forwardtech.com.



Press Contact:

Joseph Grande

413.684.2463

joe@jgrandecommunications.com

Related