High-Speed Roll-Up Door offers heavy wind resistance.
Press Release Summary: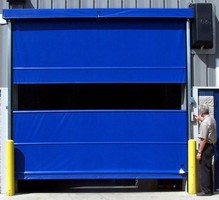 Draw-Tite(TM) employs tensioning system that enables door to maintain seal under wind gusts up to 70 mph and prevents curtain from blowing out of its guides. While in-tube style, 110 V motor moves door at 6 ips, optional external motor can take door up at speeds to 36 ips. Active edge senses objects in path of lowering curtain, reversing powered door motion upon contact. Breakaway capability avoids damage due to vehicle contact, and 18 oz. vinyl door is rot-, tear-, and mildew-resistant.
---
Original Press Release:

Roll-Up Door Brings Heavy Wind Resistance and High Speed to PROMAT 2007



(Pewaukee, WI) For external doorways to have the fast entry of a roll-up door that can withstand high wind loads the facility has to invest over $8,000 to $12,000 depending on features, size of the doorway and brand. Now these locations that needs this access and protection, yet at half the price of other powered roll-up doors, can see the new Draw-Tite(TM) powered roll-up door from Goff's Enterprises at PROMAT 2007 - Booth 417.

This door has a unique tensioning system which enables the door to maintain a seal under gusts up to 70 mph and prevents the curtain from blowing out of its guides. The door is also suitable for areas within the facility that have high positive/negative pressures.

Standard on the door is an in-tube style 110 volt motor that moves the door at 6"/sec. Goff's now makes available an optional external motor than can take the door speed up to 36"/sec. While more costly doors can go faster, for a standard 8' x 10' doorway the difference in room exposure time is less than a second.

The door also has an active edge that senses objects in the path of the lowering curtain and causes the door to reverse direction upon contact.

The motor enables the Draw-Tite to have a responsive safety edge, to work with a variety of actuation devices and to operate in conjunction with the master control boxes found on many docks that coordinate dock equipment activity. A weather tight enclosure can protect the external motor when mounted outside the building.

The Draw-Tite roll-up door has an array of high-quality features that enables the Goff's roll-up door to provide service in rugged applications. Built in to these doors are...
o Breakaway capability if the door is hit by a vehicle. The guide bar snaps back into place within the guides in seconds.
o EPDM weatherseal along vertical edges.
o Fiberglass protrusion tubes (horizontal stiffeners) bend if loaded - won't break or kink.
o Rugged custom extruded guide track captures rollers. With the combination of the track and the stiffeners, wind cannot blow curtain out of the door frame just like ultra-expensive roll-up doors.
o The 18-oz. vinyl door is rot, tear and mildew resistant, standing up to the harshest weather.
o All seams are double-locked stitched for extra strength.
o Double baffle under valence prevents pests from entering.

Doors sizes range from 8' x 8' to 14" to 14" to cover a range of doorways. A free brochure available from Goff's Enterprises describes other features of this new door.

Goff's Enterprises, Inc. is a leading manufacturer of vinyl curtain partitioning systems, including the original Goff's Curtain Walls, privacy curtains and screens, Weldview curtain and screens, Bug Blocking mesh curtain doors, vinyl roll-up doors, roll-up curtains, strip doors, and noise control curtains and screens. Goff's also offers an array of curtain wall add-ons and options to enhance basic product functions that include: Floor-Mount Wind Ties, Filter Panel options, Curtain Cleaner, Curtain Shield (Protectant), Valance Panels and Floorsweeps. These products are sold through a nationwide network of distributors.

Please send inquires to:
Tony Goff
Goff's Enterprises, Inc.
1228 Hickory St.
Pewaukee, WI 53072
Telephone: (800) 234-0337
Fax: (262) 691-3255
Email: sales@goffscw.com
www.goffscurtainwalls.com

More from Electronic Components & Devices