High-Speed Quad DAC enhances wireless base stations.
Press Release Summary: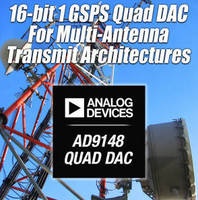 Featuring 1 GSPS data rate, AD9148 supports multi-antenna wireless communications standards requiring bandwidths demanded by digital pre-distortion transmit systems. Supplied in 12 x 12 mm package, this 4-channel, 16-bit DAC features on-chip 32-bit numerically controlled oscillator; 2X, 4X, and 8X interpolation; and dual-port, time-interleaved LVDS interface with single port or byte-mode support. Unit also features 8-deep FIFO memory and on-chip support for multi-DAC synchronization.
---
Original Press Release:

Industry's First High-Speed Quad Digital-to-Analog Converter Yields Higher Performance and Design Efficiency in Wireless Base Stations



ADI's 1-GSPS quad-channel DAC is an industry first at this speed and integration level; reduces PCB area by 20 percent compared to dual-channel options.

NORWOOD, Mass.--Analog Devices, Inc. (ADI), the global leader in data-conversion technology, introduced today the industry's first high-speed quad DAC (digital-to-analog converter) to provide support for multi-antenna wireless communications standards requiring the large bandwidths demanded by DPD* (digital pre-distortion) transmit systems. The four-channel, 16-bit DAC has a 1-GSPS (giga-sample per second) data rate and cuts component count in half relative to dual-channel DACs. Its 12 mm x 12 mm package size allows designers of WCDMA, CDMA2000, TD-SCDMA, GSM and WiMax infrastructure equipment and other wireless applications to reduce PCB (printed circuit board) space by 20 percent. For more information, visit www.analog.com/pr/AD9148.

AD9148 Key Features and Benefits

On-chip 32-bit NCO** (numerically-controlled oscillator) for complex modulation schemes

2 times, 4 times, and 8 times interpolation

Dual-port, time-interleaved LVDS (low-voltage differential signaling) interface with single port or byte-mode support enables high data rates

8-deep FIFO (first-in, first-out) memory eases timing layout

Noise spectral density of -158dBm/Hz

On-chip support for multi-DAC synchronization

IMD (third-order intermodulation distortion) = 85dBc

ACLR (adjacent-channel leakage ratio) = 78dBc

Flip-chip package technology lowers package inductance and provides for superior AC performance

As part of a complete signal chain, the AD9148 quad DAC can interface to ADI's ADL5371/2/3 frequency modulators, ADL5375 and ADRF670x analog quadrature modulators and AD9516 clock IC for clock distribution.

Pricing, Availability and Tools

Product   Sample      Channel Count   Resolution   Data Rate      Price Each Per 1,000

       Availability             (Bits)     (MSPS) per DAC

AD9148    NOW        4         16       1,000        $58.60

DAC Data Pattern Generator Tool Available
ADI's Data Pattern Generator (DPG2) is a bench-top instrument for driving vectors into Analog Devices' high-speed digital-to-analog converters. The DPG2 connects to a PC over USB and allows a user to download a vector from their PC into the DPG2's internal memory. Once downloaded, the DPG2 can run the vector at full speed via an attached evaluation board for a specific DAC. This allows for rapid evaluation of the DAC with both generic and customer-generated test data.

For more information, visit www.analog.com/pr/AD9148. For information on ADI's DAC products, visit www.analog.com/DACs.

Data Converters: Bridging the Analog and Digital Worlds
More designers turn to Analog Devices than any other supplier for the high-performance conversion technology required to bridge the analog and digital worlds in today's myriad electronic systems. With the industry's leading portfolio of ADCs (analog-to-digital converters) and DACs (digital-to-analog converters), Analog Devices' converter products feature the right combination of sampling rates and accuracy with low noise, power, and price and small package size required by industrial, medical, automotive, communications, and consumer electronics. Online evaluation tools help customers quickly validate, select, and design in the optimal data converters to reduce design complexity, development schedules, and bill-of-material costs. To view ADI's ADC selection guide, visit www.analog.com/ADCSearch. For ADC drivers, visit www.analog.com/ADCDrivers. To view ADI's DAC selection guide, visit www.analog.com/DACSearch.

About Analog Devices
Innovation, performance, and excellence are the cultural pillars on which Analog Devices has built one of the longest-standing, highest-growth companies within the technology sector. Acknowledged industry-wide as the world leader in data-conversion and signal-conditioning technologies, Analog Devices serves over 60,000 customers, representing virtually all types of electronic equipment. Celebrating over 40 years as a leading global manufacturer of high-performance integrated circuits for analog- and digital-signal processing applications, Analog Devices is headquartered in Norwood, Massachusetts, with design and manufacturing facilities throughout the world. Analog Devices' common stock is listed on the New York Stock Exchange under the ticker "ADI" and is included in the S&P 500 Index. www.analog.com

* Digital pre-distortion is an advanced signal processing technique that corrects for nonlinearities in radio transmit paths, allowing power amplifiers to run at higher efficiency levels with less distortion.
** A numerically controlled oscillator is used to provide frequency translation in the digital domain-- an important block in modern digital radio processing.
Subscribe to ADI's News Feed.

Follow ADI on Twitter at http://www.twitter.com/ADI_News
Photos/Multimedia Gallery Available: http://www.businesswire.com/cgi-bin/mmg.cgi?eid=6265353&lang=en

Contacts
Analog Devices, Inc.
Bob Olson, 781-937-1666
Email: bob.olson@analog.com
or
Porter Novelli
Andrew MacLellan, 617-897-8270
Email: andrew.maclellan@porternovelli.com

More from Paints & Coatings