High-Speed Photocoupler withstands extreme temperatures.
Press Release Summary: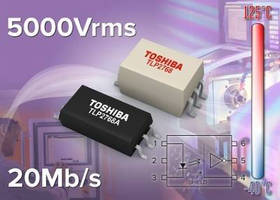 Sustaining data rates up to 20 Mbps, Model TLP2768A is suitable for high-speed communication interfaces in factory automation systems, measurement and control equipment, and plasma display panels. Open-collector output allows for both sink and source drive implementations. Supplied in ultra-thin S06L package that maintains creepage/clearance distance up to 8 mm, TLP2768A operates from -40 to 125°C, supports 3.3 and 5.5 V power supplies, and achieves minimum isolation voltage of 5,000 Vrms.
---
Original Press Release:

Toshiba Debuts New High-Speed Photocoupler



Delivers Creepage and Clearance Distance of 8mm



IRVINE, Calif.,  -- Toshiba America Electronic Components, Inc. (TAEC)*, a committed leader that collaborates with technology companies to create breakthrough designs, today announced the launch of a new high-speed photocoupler that offers protection against extreme operating temperatures. The TLP2768A is capable of sustaining data rates up to 20 Mbps([1), making it suitable for use in high-speed communication interfaces in factory automation systems, measurement and control equipment and plasma display panels.



The TLP2768A features an operating temperature range of -40 to 125  C, enabling it to be used in increasingly compact industrial equipment that contains a greater density of components and therefore has higher internal temperatures. An open-collector output allows for both sink and source drive implementations. The TLP2768A supports both 3.3 and 5.5V power supplies, making it compatible with a wide range of existing industrial applications as well as ensuring it meets the needs of new and emerging low-voltage designs.



Toshiba's TLP2768A high-speed photocoupler consists of a high-output GaAAs light-emitting diode coupled with integrated high gain, high-speed photodetectors. It features an inverter-logic output and operates over an extended temperature range while complying with the reinforced isolation class requirements of international safety standards. Housed in Toshiba's ultra-thin S06L package, the TLP2768A offers a maximum height of just 2.3mm, which means a thickness reduction of approximately 45 percent([2), yet achieves a very high minimum isolation voltage rating of 5000Vrms. The S06L package is able to maintain creepage and clearance distances up to 8mm.



Key Features



--  Inverter logic type (open collector output)

--  Package: SO6L

--  Operating temperature: -40 to 125  C

--  Supply voltage: 2.7 to 5.5 V

--  Data transfer rate: 20 Mbps (typ.) (NRZ)

--  Threshold input current: 5.0 mA (max)

--  Supply current: 4 mA (max)

--  Common-mode transient immunity:   20 kV/  us (min)

--  Isolation voltage: 5000 Vrms (min)

--  Safety standards: UL, cUL, and VDE-approved



Pricing and Availability

Toshiba's new photocouplers are available now. Please contact your local Toshiba Sales Office for samples.



Notes

[1 Datasheet with recommended operating conditions available here

[2 Compared to the previous SDIP6 package

*About Toshiba Corp. and TAEC



About TAEC

Through proven commitment, lasting relationships and advanced, reliable electronic components, Toshiba enables its customers to create market-leading designs. Toshiba is the heartbeat within product breakthroughs from OEMs, ODMs, CMs, VARs, distributors and fabless chip companies worldwide.  A committed electronic components leader, Toshiba designs and manufactures high-quality flash memory-based storage solutions, solid state drives (SSDs), hard disk drives (HDDs), solid state hybrid drives (SSHDs), discrete devices, custom SoCs/ASICs, imaging products, microcontrollers, wireless components, mobile peripheral devices, advanced materials and medical tubes that make possible today's leading smartphones, tablets, cameras, medical devices, automotive electronics, industrial applications, enterprise solutions and more.



Toshiba America Electronic Components, Inc. is an independent operating company owned by Toshiba America, Inc., a subsidiary of Toshiba Corporation, Japan's largest semiconductor manufacturer and the world's sixth largest semiconductor manufacturer (Gartner, 2014 Worldwide Semiconductor Revenue Estimates, December 2014). Founded in Tokyo in 1875, Toshiba is at the heart of a global network of over 590 consolidated companies emplying over 200,000 people worldwide. Visit Toshiba's web site at www.toshiba.co.jp/index.htm.



(C) 2014 Toshiba America Electronic Components, Inc. All rights reserved.



Information in this press release, including product pricing and specifications, content of services and contact information, is current and believed to be accurate on the date of the announcement, but is subject to change without prior notice. Technical and application information contained here is subject to the most recent applicable Toshiba product specifications.



CONTACT: Rebecca Bueno, Toshiba America Electronic Components, Inc., Tel.: (949) 462-7885, rebecca.bueno@taec.toshiba.com



Web Site: http://www.toshiba.com/taec

More from Optics & Photonics