High-Speed Necker Infeed combines single filer and conveyor.
Press Release Summary: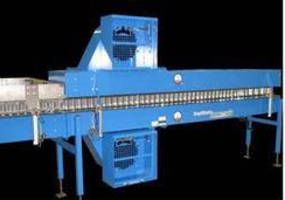 Necker infeed features AMBEC Dual Plenum Converging Rail Vertical Can Single Filer that is adjustable for various cans and can heights. Once cans pass through single filer, they enter AMBEC Tunnel Track Conveyor that moves them vertically or horizontally with open end up or down. Can velocity automatically adjusts to downstream demand, and pressure settings are controlled manually with adjustable damper disks. Blower fans, mounted directly to motors, eliminate need for belts, chains, or gears.
---
Original Press Release:

FleetwoodGoldcoWyard Offers High-Speed Necker Infeed



ROMEOVILLE, Ill. - FleetwoodGoldcoWyard, a leading producer and supplier of advanced conveyance technology and product handling equipment, presents its high-speed necker infeed. The combination of the AMBEC Dual Plenum Converging Rail Vertical Can Single Filer and the AMBEC Tunnel Track Conveyor advances empty, non-bright, vertical cans at speeds up to 3,000 cans per minute.

With its low horsepower requirements, the AMBEC Dual Plenum Converging Rail Vertical Can Single Filer features reduced power consumption when compared to traditional single filers along with a lower initial cost. The unit is adjustable for various cans and can heights with no change parts required. Cans are less susceptible to damage, as compared to traditional horizontal single filers, due to cans being single filed upright at lower pressures.

After the cans pass through the single filer, they enter the AMBEC Tunnel Track Conveyor where they are conveyed either vertically or horizontally with the open end up or down. Can velocity automatically adjusts to downstream demand, preventing excess container loading that could result in damage to cans given that no repeated stopping and starting takes place. The design of blower fans mounted directly to the motors eliminates belts, chains, or gears to adjust or replace. Pressure settings are controlled manually with precise, adjustable damper disks. The reliably smooth flow of product does not require conveyors to be level. AMBEC Tunnel Track conveyors are easy to install with all conveyor sections coming preassembled with manifolds. Joining sections are pre-drilled and have identification labels attached, and there are no flexible ducts to connect manifolds with plenums.

ABOUT BARRY-WEHMILLER

Barry-Wehmiller Companies, Inc. is a diversified global supplier of engineering consulting and manufacturing technology solutions in packaging, corrugating, and paper converting across a broad spectrum of industries.

Barry-Wehmiller's balanced approach to the market is made possible through nine interactive divisions: Accraply, Inc., a leading manufacturer of automatic labeling and label converting and finishing systems; Barry-Wehmiller Design Group, Inc., a premier supplier of manufacturing automation, facility design, and other engineering consulting services; Barry-Wehmiller International Resources (BWIR), a global provider of business and technology solutions to the mid-market manufacturing domain; FleetwoodGoldcoWyard, Inc., a leading producer and supplier of automated can end and product handling equipment, advanced conveyance technology, robotic technology, palletizers, depalletizers, and process equipment; HayssenSandiacre, a form/fill/seal technologies and services leader for more than 100 years; MarquipWardUnited, Inc., a leading manufacturer of equipment for the corrugated and folded carton industries; Paper Converting Machine Company (PCMC), providing high-performance converting machinery for the global tissue, nonwovens, package printing, and envelope manufacturing industries; PneumaticScaleAngelus, a global provider for filling, capping, can seaming, labeling, and centrifugation; and Thiele Technologies, Inc., a leading producer of placing, feeding, bagging, cartoning, case packing, and palletizing equipment.

In fiscal year 2009, Barry-Wehmiller leveraged a strategic combination of organic and acquisition growth to achieve revenues of nearly $1 billion. Barry-Wehmiller now employs more than 5,400 team members in over 65 locations worldwide.

For additional information, please contact:

Greg Myers

Technical Materials and Marketing Leader

+1 (970) 663-4770

1305 Lakeview Drive

Romeoville, IL 60446 USA

Tel: +1 (630) 759-6800

Fax: +1 (630) 759-2299

sales@fgwa.com

www.fgwa.com

More from Electrical Equipment & Systems