High-Speed Machining Demos to Showcase Command's Advanced Capabilities at IMTS 2006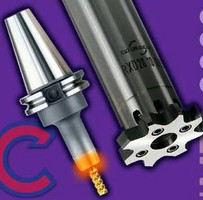 RAMSEY, MN-June 15, 2006-Command Tooling System's new high-speed machining demo at IMTS will allow visitors to experience the difference between Thermolock® holders vs. conventional toolholders, the benefits of balanceable boring heads, and the difference between single-point boring vs new reaming technology.

In addition to the high-speed machining center, Command will also demonstrate four new heat-shrink tool changers and an expanded line of balancing machines.

"With the industry's increasing demand for faster spindle speeds, the importance of precise balance dramatically impacts tool life, spindle performance and surface finish," stated Robert Dunlap, Vice President Sales, Command Tooling Systems. "Our goal is to bring the highest standards for balanced toolholders to our customers' operations because properly balanced tools improves the machine's overall performance."

Command will exhibit its expanded line of ThermoLock holders, including fractional and metric, HSK, BT, CT and DIN in addition to the new 3-degree nose extensions.

Also at IMTS 2006 Command will show its new URMA reamers featuring throwaway wafer technology which eliminates regrinding while minimizing setup time. Visitors will experience the difference in speed and surface finish between advanced reaming technology and single-point boring.

URMA boring heads will be on display and used in demonstration. From the versatile VersaMax(TM) to the one-pass rough and finish capability of the IntraMax(TM) to the micro-adjustable MicroMax(TM), this Command staple is always a must see.

Finally, Command will demonstrate four new heat-shrink tool changers. From the "Mini Heat-Shrink" that allows entry-level users to experience Thermolock performance to the all new heat-shrink and pre-setter combination system.

Visit Command's booth E-2704 at IMTS to see the live demos and their new and expanded product lines.

Command Tooling Systems is the technology leader in toolholder manufacturing for high-precision machining operations serving many industries, including automotive, aerospace, computer, defense, electronic, job shop and medical equipment. Command® is committed to providing tooling solutions of the highest quality, with immediate availability. For more information contact: Command Tooling Systems; 13931 Sunfish Lake Blvd.: Ramsey, MN 55303 Ph: 763-576-6910 Fax: 763-576-6911. www.commandtool.com.

MicroMax(TM), and VersaMax(TM) are trademarks of Command Tooling Systems LLC. Command® is a registered trademark of Command Tooling Systems, LLC *With Shrinker Technology. Shrinker is a registered trademark of Tooling Innovations, Dana Point, CA.

Related