High-Speed Machining Center provides graphite milling.
Press Release Summary: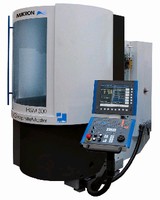 Built on polymer concrete base, HSM 300 GraphiteMaster features heavy-duty spindle with ceramic-hybrid bearing offering rotating speeds up to 30,000 rpm. System is equipped with 18-position tool changer and can be upgraded to 27 positions. Zero-play linear guides and drive spindles ensure precise positioning with axis acceleration rates up to 1.7 G. Additional features include Heidenhain iTNC530 control system, digital drive technology, and dust extraction system.
---
Original Press Release:

New Mikron HSM 300 Graphitemaster Offers Optimal, Economical Solution For Milling Graphite



LINCOLNSHIRE, IL. U.S.A., April 30, 2006 - Today Mikron introduced the new HSM 300 GraphiteMaster, a cost-effective system designed specifically for high-speed machining of graphite. A fully integrated extractor unit, a sturdy polymer concrete base, and a state-of-the-art Heidenhain iTNC530 control system are just some of the features that provide clean, precise, reliable machining with the HSM GraphiteMaster.

The HSM 300 GraphiteMaster is built on a polymer concrete base, providing the best damping properties and exceptional stability. Zero-play linear guides and highly accurate drive spindles ensure precise positioning and high rigidity with axis acceleration rates of up to 1.7G. The digital drive technology guarantees optimal machine dynamics when performing complex 3D machining. In addition, the user-friendly cabin is designed for spacious access and maximum sound absorption. Featuring the latest Heidenhain iTNC530 control system, the HSM 300 GraphiteMaster provides the necessary speed and control to perform the most complex applications.

Providing clean and efficient machining, a powerful dust extraction system with suction frame is fully integrated into the machine bed of the GraphiteMaster. Nozzles surrounding the machining spindle deliver compressed air directly to the machining point for optimal dust removal, making it possible to perform jobs without any interruptions. The constant flow of fresh air protects the guides and the automatic tool changer from any contamination. In addition, the table-mounted suction frame can be easily removed and installed again in only a few minutes, ensuring highly efficient machining.

"With the introduction of the HSM 300 GraphiteMaster, we are able to fulfill the requirements of tool and moldmaking manufacturers in the rapidly growing graphite electrode market," said Mr. Mal Sudhakar, Vice President at Mikron. "This system is engineered specifically for optimal dust extraction when machining graphite and the control system provides the necessary speed to meet the requirement of very complex applications."

The system's heavy-duty spindle with its ceramic-hybrid bearing allows rotating speeds of up to 30,000 rpm. Designed for superb stability and a long working life, the spindle features constant grease lubrication, which eliminates oil drops from the spindle head - an important factor in the manufacturing of graphite electrodes.

The HSK 40 tool holder delivers the highest rotation accuracy and enables precise finishing with the smallest possible cutting tools, up to 0.2 mm diameter, as well as roughing with tools of up to 13 mm diameter. The standard HSM system is equipped with a 18 position tool changer and can be upgraded to 27 positions. The HSM 300 GraphiteMaster is also designed for an easy interface for robot loading to allow unattended machining operations.

About Mikron
Mikron is a division of Agie Charmilles Corp., the world's leading system provider to the tool and moldmaking industry. The company provides sales, service, parts and technical support of Mikron high speed, high performance machining centers. Mikron has the industry's widest range of high speed machines, with travel ranges from 15 through 54 inches and spindle speeds up to 54,000 rpm. Machines are available in a wide array of three-, four- and five-axis configurations for die/mold, job shop, aerospace, medical, electronic and other high precision applications. The company maintains fully equipped, state-of-the-art technology centers in Lincolnshire, IL and Holliston, MA for applications engineering, customer training and product demonstrations.

For more information on Mikron's HSM 300 GraphiteMaster, contact Mr. Gisbert Ledvon, Marketing Manager, 560 Bond St., Lincolnshire, IL. 60069-4224 Tel: 847-913-5300 ext. 164 or email gisbert.ledvon@charmillesus.com Additional details are also available at the company's website, mikron-us.com.


More from Materials