High-Speed Machining Center offers high position accuracy.
Press Release Summary: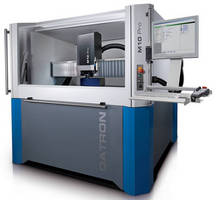 In addition to offering 40 x 28 in. work area within 79 x 83 in. footprint, M10 Pro has direct-drive, liquid-chilled, 40,000 rpm spindle using HSK-25E tool holders with less than 1 micron run-out. Linear scales on all axes are driven by larger motors and drives, yielding ±5 micron position accuracy and rapids up to 30 m/min. Along with high-speed CNC control for 3-6 axes, machining center features gantry construction and supports palletized work-holding and probing functionality.
---
Original Press Release:

DATRON Releases the M10 Pro, Their Fastest, Most Accurate High-Speed Machining Center with Linear Scales and +/- 5 Micron Position Accuracy.



Milford, NH - Datron Dynamics, Inc. has announced the release of the M10 Pro - a "next generation" in their line of German-engineered high speed machining centers that includes significant advancements in their machining technology. Specifically, the M10 Pro features linear scales on all axes driven by larger motors and drives yielding a +/- 5 micron position accuracy and rapids up to 30 meters per minute. The addition of linear scales led to the development of a newly designed high-speed CNC control for 3 to 6 Axes. The M10 Pro has a direct-drive, liquid-chilled, 40,000 RPM spindle using HSK-25E tool holders with <1 micron run-out.

With a gantry construction the M10 Pro has a maximized work area of 40" x 28" while only using a floor space foot print of 79" x 83". Added functionality like palletized work-holding and advanced probing is available for manufacturers looking to reduce set-up time and increase part quality and uniformity. The M10 Pro is positioned for applications requiring high accuracy and spindle speed such as defense, aerospace, electronics, energy, medical part prototyping and production.

Datron Dynamics, Vice President, Robert Murphy, says, "The M10 Pro is unlike any other machine in its class and represents the next generation of efficient machining solutions. Its unique construction offers a tremendous work area with extreme accuracy". "Companies that are investing in technology and looking for top quality "out of the box" solutions usually end up finding us". "Datron has never lost focus of our "high-speed" roots ... now we've added ever higher precision and flexibility."

About Datron: Datron Dynamics is the North American affiliate of DATRON AG, a German technology firm established in 1969 that has become a leader in the design and development of CNC machining and dispensing systems. Founded in 1996 by President, William King, Datron Dynamics is differentiated in the marketplace by its focus on high-speed machining with micro-tooling. Datron machines feature 30,000-60,000 RPM spindles that produce low force and superior quality when using intricate tooling. An Ethanol-Mist Coolant System(TM) provides superb surface finishes and eliminates secondary processes like de-burring and de-greasing. Other features such as the Z-Correction Probe(TM), Automatic Tool Management System(TM) and their proprietary Quick-Pallets(TM) and VacuMate(TM) workholding systems enable batch machining and "lights-out" production. These distinctions have resulted in thousands of installations worldwide within industries requiring superior production of electronic housings, embossing dies, firearm engraving, rapid prototyping, 3D precision engraving, electronic panels and the production of electro-mechanical and aerospace parts.


More from Optics & Photonics