High-Speed Machines fill, stopper, and crimp vials.
Press Release Summary: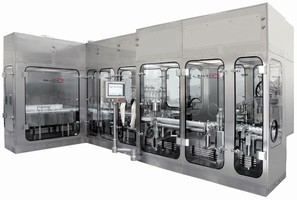 Offered in models capable of handling 300-600 vials/min, servo-driven machines feature balcony design compliant with cGMP guidelines as well as complete separation of drive from filling area to optimize laminar airflow throughout stations. Type 550 achieves aseptic filling and stoppering of vials, while Type 551 crimping machine can be used directly inline with Type 550 or as stand-alone unit. Also, Type 550 offers choice of 4 dosing systems as well as in-process checkweighing.
---
Original Press Release:

Bausch Advanced Technology Group Introduces New High-Speed Pharmaceutical Machines for Filling, Stoppering and Crimping Vials



September 30, 2008 - Bausch Advanced Technology Group, a leading supplier of pharmaceutical packaging equipment worldwide, introduces two new high-speed machines for the filling, stoppering and crimping of vials. The new Type 550 machine achieves aseptic filling and stoppering of vials and the new Type 551 crimping machine can be directly inline with the Type 550 or used as a stand-alone unit. Capable of handling up to 600 vials per minutes, the servo-driven Type 550 and Type 551 machines maximize production versatility and repeatable precision.

Both machines are ideally suited for RABS and isolator applications. They offer a balcony design that is compliant with cGMP guidelines. The complete separation of the drive from the filling area optimizes the laminar airflow throughout the stations. The mechanical areas are accessible from the back side of the systems for easy maintenance and the reduced widths offer easy access for operators. Both machines are extremely suitable for through-the-wall installation.

The Type 550 filling and stoppering machine offers the choice of 4 dosing systems: volumetric rotary piston pump, peristaltic pump, time pressure and mass flow system. In addition, the machine offers an in-process checkweighing capability that allows for the automatic startup of the line to minimize product loss.

The adjustments of the working parameters can be achieved directly from the operating interface terminal and the change of stopper sizes and cap sizes are performed without tools.

All parts that come in contact with the product, the stoppers and the caps can be disassembled quickly and easily in order to allow sterilization in autoclave.

The transport system, while guiding the vials positively throughout the entire machine, features an automatic adjustment according to vial diameter.

The linear walking beam nozzle carrier moves the nozzle in a way that filling takes place while vials move forward in continuous mode at a constant speed.

"The Type 550 and Type 551 machines have been designed to speed size changeover," noted Oliver Bausch, President of Bausch Advanced Technology Group. "Changing the vial height is done directly through the operating interface terminal. A complete size changeover - starwheels, screws and rejection lanes - is done without tools."

All surfaces inside the process area are easily cleanable thanks to the absence of dead zone and corners. All parts in contact with the product are made of AISI 316L stainless steel with 0.6 Ra finish while all parts in contact with the rubber stoppers have a finish of 0.8 Ra.

Different models are available for production capacities: 300, 400 and 600 vials per minute.

About Bausch Advanced Technology Group
Bausch Advanced Technology Group combines an extensive experience of over 20 years of engineering and manufacturing of machinery dedicated to the pharmaceutical industry. It offers complete turn-key pharmaceutical packaging lines for syringes, cartridges, vials, ampoules and IV bags. The Group maintains manufacturing plants in the USA, Switzerland, Germany and Brazil and benefits from sales offices in the USA, Germany, Russia and South America and a large distribution network covering many countries worldwide.

More from Electrical Equipment & Systems