High-Speed I/O Connectors operate from 5-10 Gbps.
Press Release Summary: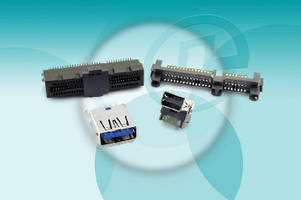 Operating as storage interface, SATA III Connector supports server, desktop/mobile PC, hard drive, and HD DVR applications. PCIe3.0 Connector can support up to 8 Gbps and is used in expansion cards that interconnect with server, switch, router, and desktop applications. Through single, compact port, Thunderbolt Connector supports high-resolution displays and data devices. USB 3.0 Connector is used in SuperSpeed USBs to furnish connectivity for desktop/mobile PCs, servers, switches, etc.
---
Original Press Release:

Pulse Electronics Introduces 4 High Speed I/O Connectors



Operate at frequencies from 5Gbps to 10Gbps



San Diego, Calif. – Pulse Electronics Corporation (NYSE: PULS), a leading provider of electronic components, introduces four input/output (I/O) connectors that meet the standards and fulfill the demands of high-performance computing such as cloud computing, data centers, enterprise servers, the switch market, and consumer electronics. The SATA III, PCI Express (PCIe) 3.0, USB 3.0, and Thunderbolt are a new generation of high-speed connectors that operate at frequencies ranging from 5Gbps to 10Gbps.



The SATA III connector is popular as a storage interface supporting server, desktop/mobile PC, hard drive, and HD DVR applications. PCIe3.0 can support up to 8Gbps and is used in the expansion cards that interconnect with server, switch, router and desktop applications. The USB 3.0 connector is now widely used in all SuperSpeed USBs to furnish connectivity for desktop and mobile PCs, servers, switches, routers, removable storage devices, cameras, and consumer electronics, while Thunderbolt supports high-resolution displays and high-performance data devices through a single, compact port.



"Pulse is introducing a new I/O connector series to accommodate high-speed input and output interconnection needs with a total solution for our customers," explained Gerald Yang, product manager, Pulse Electronics. "Pulse supplies various configurations with extremely competitive prices to cope with market demand. The launch includes right angle/vertical and through-hole/SMT connectors with a total of 42 part numbers. Pulse can also support any custom-designed platforms to match a customer's application. These products are in addition to the many high-speed I/O connectors that Pulse offers, such as SFP and SFP+ connectors, including single, 1x4, 1x6, 1x10, 2x1, 2x2, 2x4, 2x6, and 2x8 platforms."



Lead time for the connectors is 4-6 weeks. Samples are available upon request. More information can be found on the product data sheets http://productfinder.pulseeng.com/product/E8110-001-01,  http://productfinder.pulseeng.com/product/E8199-001-01,  http://productfinder.pulseeng.com/product/E9001-001-01,  http://productfinder.pulseeng.com/product/E9113-001-01,  http://productfinder.pulseeng.com/product/E9122-001-01,  or on the Pulse Electronics website at http://productfinder.pulseeng.com/product/E9320-001-01.



About Pulse Electronics: 

Pulse Electronics is the electronic components partner that helps customers build the next great product by providing the needed technical solutions. Pulse Electronics has a long operating history of innovation in magnetics, antennas, and connectors, as well as the ability to ramp quickly into high-quality, high-volume production. The Company serves the wireless and wireline communications, power management, military/aerospace, and automotive industries. Pulse Electronics is a participating member of the IEEE, SFF, OIF, HDBaseT Alliance, CommNexus, NFC Forum, MoCA, and IWPC. Visit the Pulse Electronics website at www.pulseelectronics.com.



Copyright ©2013 Pulse Electronics Corporation. All rights reserved. All brand names and trademarks are properties of their respective holders.



Pulse Electronics

Gerald Yang

Product Manager

Pulse Electronics

Tel: +886-3-4356768 ext.267

Email: geraldyang@pulseelectronics.com

More from Controls & Controllers