High-Speed Ethernet Connectors target railway applications.
Press Release Summary: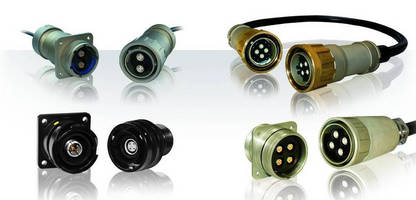 Ethernet Quadrax-contact connectors, used with copper cable, transmit data according to MVB, WTB, and Ethernet protocols at speeds up to 1 GB/sec. They are available in 1 layout with 1 Quadrax contact for VGE1 series cables, 1 layout with 1 contact for FER1 series cables, and 3 layouts for 838 series cables. All are qualified as requirement II fire-smoke class according to standards NF F 16-101 and 16-102. Connectors feature single 16 AWG contact railway Quadrax contacts.
---
Original Press Release:

Railway High-Speed Solutions from SOURIAU



Souriau introduces the first Quadrax-contact connectors on the market intended for railway applications. Invented and patented by Souriau in the 2000s for the aircraft industry and generating sales of several tens of thousands, the Ethernet Quadrax contact is a high-speed contact with high reliability, very easy to use. With 7 dedicated ranges and some hundred different layouts intended for onboard or trackside applications, Souriau offers the most complete range for railways. Several thousand Quadrax contacts have already been sold to the SNCF and to Alstom for new rolling stock or for upgrading.

The Ethernet Quadrax solution can be installed on new or upgraded stock. It is used with copper cable, transmitting data according to MVB, WTB and Ethernet protocols at speeds up to 1 gigabyte/second. Connectors with railway Quadrax contacts have been adapted to railway cables, which have specific cross-sections and diameters. The Souriau railway range now has five connectors with Quadrax: 1 layout with 1 Quadrax for the VGE1 series, 1 layout with 1 Quadrax for the FER1 series, and 3 layouts for the 838 series: 2 Quadrax, 4 Quadrax and 4 Quadrax + 8 signal contacts.

These connectors have already been installed on new Alstom stock and in SNCF upgrade programmes. This success is the fruit of the long-term involvement of Souriau in the railway market. The performance of the new Quadrax railway connectors is illustrated by the first two contracts won. First, Alstom has selected Souriau to supply all the inter-carriage signal connectors for the MI09 programme. The 60 train sets will run on Paris suburban tracks (RER A), replacing the current stock. Then the SNCF has awarded a contract to Souriau for the supply of 838 series connectors and harnesses with 4 Quadrax + 8 signal contacts for the Z2N upgrade programme. The Quadrax connectors are installed between carriages so as to be able to equip the carriages with passenger information screens at the front and rear of the train. VGE1 and FER1 connectors with a single Quadrax contact are already installed on the MP05 Paris metro trains.

The VGE1, FER 1 and 838 Series Quadrax connectors have been qualified according to the NF F 61-030 standard, the composite materials used have a requirement II fire-smoke class according to standards NF F 16-101 and 16-102 and the Quadrax contacts have been placed in category 6 according to the Ethernet standard IEC 11801.

The development of the railway high-speed connector ranges with Quadrax contacts continues Souriau's standardization policy: a single Quadrax contact design for all product ranges. Standardization is a strong point of the Souriau connector ranges. The most significant example is the use of a single AWG 16-size contact, derived from the TRIM TRIO industrial range, for all railway ranges. A platform of seven dedicated ranges with a hundred or so layouts is available. It provides total flexibility and versatility for embedded equipment, signalling and infrastructure applications.

This standardized production has many advantages. First, railway customers benefit from economies of scale resulting from the volumes of the industrial range. Second, purchasing, procurement and storage on the customer's premises are simplified. The customer manages a single contact listing, reducing its management costs in proportion. Third, a single type of crimping tool is required for all connectors. This enables the wiring process to be standardized, reducing costs and improving quality. Souriau is the only manufacturer on the market to supply a single contact type and provide such standardization over all its ranges.

With an ISO 14001 and IRIS certified production facility, Souriau places the emphasis on sustainable development. The connectors made of composite materials (meeting fire-smoke standards with the standard AWG 16 contact) are installed on train sets and contribute to weight savings, thus reducing train energy consumption. In high-speed transmission, Souriau is working on connector solutions with optical fibres, which will eliminate heavy copper cables for certain applications.

SOURIAU

FROHLICH Silke

Phone: +33 1 30 84 77 99

Fax: +33 1 30 84 15 30

sfrohlich@souriau.com

More from Software