High-Speed Connector meets full MSA requirements.
Press Release Summary: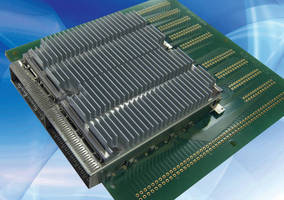 Intended for telecomm/data communications, CFP2 connector (series CA009) has 0.6 mm pitch and 100 Gbps data transmission rate. Signals are transmitted through 80-pin host connector, which is EMI-protected and available as SMD version. At 85 mm wide, complete CFP2 set consists of host connector, plug connector, connector cover, cage, and heat sink. Up to 4 channels of 25 Gbps each are available, and contacts for cage, with press-fit technology, eliminate screwing of connector onto PCB.
---
Original Press Release:

100Gbps High-Speed CFP2 Connector and Components



For reliable high signal transmission rates in telecomm/data communications systems



Munich – The new CPF2 connector (series CA009) with 100Gbps high-speed data transmission is the first connector that meets the full MSA requirements.



The requirements placed by the MSA on the CFP2 connector as a further development of the standard CFP connector were strict. Among other things, it was necessary to reduce the pitch of the CFP from 0.8mm to 0.6mm for the CFP2, while still achieving the data transmission rate of 100Gbps. Yamaichi Electronics has implemented this successfully in the new CFP2 connector as one of the first manufacturers.



Signals are transmitted through an 80-pin host connector that is available as SMD version. To be able to transmit at 100Gbps, up to 4 channels of 25Gbps each are available.



Additionally, the host connector is EMI-protected by the connector cover, which is also available in a twin design. The backdrop for the twin design is the complete CFP2 set consisting of the host connector, plug connector, connector cover, cage and heat sink. In all, the new CFP2 measures 85mm in width and can handle two modules of about 42mm module width each at a time. This means that the CFP2 connector set can replace a CFP connector, though at twice the transmission capacity, corresponding to 200Gbps transmission capacity.



The contacts for the cage, equipped with press-fit technology, are new. This eliminates the time-consuming screwing of the connector onto the PCB. The 33 press-fit pins on the cage provide over 800N of strength.



The complete CFP2 connector and its associated components correspond to the connector set standardised in the Multi Source Agreement (MSA).



For questions about this product, please write to

sales-de@yamaichi.eu



Yamaichi at future trade shows:

embedded world 2013 from February 26 – 28 in Nürnberg, hall 4-341



About Yamaichi Electronics

Yamaichi is a market leader for test & burn-in sockets, connectors and connection systems – areas in which reliability and function safety are essential for the success of the whole project. Yamaichi has established itself very quickly on the world market as a manufacturer of high-quality and reliable components for ambitious applications in the following sectors: photovoltaic, automotive, medical, semiconductor, telecommunications infrastructure, industrial automation, mobile computer technology, mobile telephones, GPS systems, printers, digital cameras, camcorders, as well as electronic devices in the retail trade, industry and electronics.



Yamaichi Electronics in Europe:

Yamaichi Electronics Deutschland GmbH

Karl-Schmid-Str. 9, 81829 München, Germany

Tel. +49 (0)89 – 4 51 09-0

Fax: +49 (0)89 – 4 51 09-110

info-de@yamaichi.eu

www.yamaichi.eu



Yamaichi Electronics in the USA:

Yamaichi Electronics USA Inc. 475 Holger Way San Jose, CA 95134

Tel: + 1-408-715-9100

Fax: + 1-408-715-9199

info@yeu.com www.yamaichi.us



Further locations are listed on our website

More from Fluid & Gas Flow Equipment