High-Speed CNC Control suits industrial automation.
Press Release Summary: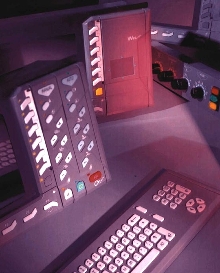 10/Series achieves 1 millisecond block processing speed, with 5 axes interpolation and 164 block look ahead. Series includes full range of controllers for basic single spindle, 3-axes applications to complex systems of 20 processes and 32 axes. Controllers are supported by standard PC architecture, Windows compatibility, libary for personalized graphics and program management, Interbus interface, and high-speed Ethernet data link.
---
Original Press Release:
New High Speed CNC Controls For Industrial Automation

April 15, 2002. Bloomfield, CT. OSAI-USA has introduced a new family of thigh speed CNC controls for industrial automation. The 10/Series OSAI Controllers offer high performance for a
range of CNC controls from a single spindle and three axes to 20 processes and 32 axes.

The 10/Series CNC Controllers can achieve a one millisecond block processing speed with 5 axes interpolation and 164 block look ahead. Supporting this high performance is standard PC
architecture, Windows compatibility, a library for personalized graphics and program management (using DCOM Technology,), a standard Interbus interface, and a high speed Ethernet data link.

The 10/Series of CNC Controls includes a full range of controllers for the most basic single spindle, 3-axes application to the most complex system of 20 processes and 32 axes.

The 10/110 model is a dedicated controller for three axes and one spindle drive. The 10/510 model can manage up to 4 parallel processes, up to 6 analog axes or up to 8 axes with Sercos
digital interface. A modular "rack" version, the 10/565 model, can manage up to 16 analog axes or 16 digital axes with Sercos interface and up to 4 processes. Another "rack" version, the 10/585 model, can manage up to 20 processes and 32 axes with digital Sercos interface.

The 10/Series CNC Controls are used in woodworking, glass and marble processing, machine tool, industrial automation, aerospace, automotive, and all manufacturing operations where speed and accuracy are critical.

OSAI has been producing high speed, precision CNC controls for industry ever since inventing these controls as part of Officine Meccaniche Olivetti in 1957. Today OSAI is an independent
company with over 50,000 controls installed around the world. OSAI-USA is headquartered in Bloomfield, CT.

Editorial Contact: Dean M. Wood 401453-5000

91 FRIENDSHIP STREET, PROVIDENCE, RHODE ISLAND 02903 401-453-5000 FAX 401-453-5001 deanwood@peoplepc.com