High-Speed Bi-Parting Doors promote productivity and safety.
Press Release Summary: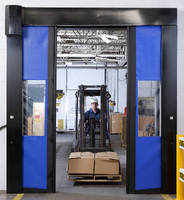 SplitSecond(TM) Series employs variable-frequency drive and spring tube design that opens fabric curtain from middle at speeds up to 120 ips. Each half of curtain has window for visibility when door is closed, and curtain collects into side frames to minimize required wall space. Three through-beam photo eyes monitor door opening and torque-sensing drive system reverse door if obstruction is detected. Doors come with fabric, powder-coated steel, or stainless steel side frames.
---
Original Press Release:

Rite-Hite's SplitSecond(TM) High-Performance Doors Use Less Wall Space; Operate at a Peak Speed of 120 Inches Per Second for Improved Productivity and Safety



Rite-Hite Doors, Inc., introduces the SplitSecond(TM) Series of high-performance, bi-parting industrial doors specifically engineered to take up less wall space and provide immediate access through door openings - with a peak speed of 120 inches per second - for improved productivity and safety.

The SplitSecond door features a variable-frequency drive and a simple spring tube design that opens a fabric curtain from the middle at an industry-high peak speed of up to 120 inches per second. Each half of the curtain, which features large windows for high visibility when the door is closed, efficiently collects into the side frames to greatly minimize the amount of wall space needed when compared to solid-panel bi-parting doors. The door also fits neatly into tight spaces.

SplitSecond is available in multiple configurations including the SplitSecond(TM) Pharma, which is designed to meet the unique requirements of the pharmaceutical industry for a tight seal and low air leakage rates. SplitSecond configurations also include fabric, powder-coated steel, or stainless steel side frames to match durability, costs and environmental requirements. Together, the door's compact design, fast cycle times, and host of unique features contributes to:


Improved productivity: Any waiting to get through a door opening is virtually eliminated so that vehicles, including high-mast forklifts, and pedestrians achieve immediate full-height access.


Increased safety: Since the door opens quickly from the center, it provides near-instantaneous, full-height visibility to the opposite side of the opening for increased safety. Because of its speed, the potential for accidental door impacts while the door is open is also minimized. Other safety features, in addition to large windows, include three through-beam photo eyes that monitor the door opening and automatically open the door when an obstruction is detected. SplitSecond also includes a torque-sensing drive system that reverses the door if an obstruction is detected. A non-powered opening system allows the door to be opened in the event of a power outage.


Superior uptime and reduced maintenance: SplitSecond's high speed and bi-parting design minimizes the potential for door impact, yet the flexible curtain is designed to withstand incidental impacts without damage. Additionally, the door will continue to function in the event of an impact. It also includes a bottom seal that's easily replaced.


Better environmental control: SpitSecond's fast speed allows for improved environmental separation between plant or warehouse operations. It also seals tightly on all four sides of the door opening, all of which helps lower energy costs. Additionally, unique stabilizer struts provide enough tension to handle pressure up to .20 inches of water.


Increased cleanliness: As a bi-parting door, SplitSecond reduces the potential for contaminants to be carried overhead.

SplitSecond is designed for virtually any interior application, including general industrial uses, coolers, ready-to-eat process areas, clean rooms, and hallways. Users can order a blue, or white fabric curtain. SplitSecond is backed by a customer-satisfaction, money-back guarantee and a one-year warranty on the entire door.

A video of SplitSecond is at: http://www.ritehitevideos.com/SplitSecond.html

More from Electronic Components & Devices