High-Speed Ball Screws have elastic spacers.
Press Release Summary: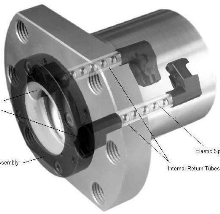 With design that avoids inter-ball friction and torque build-up at slow speeds, UltraSpeed KES ball nut incorporates spacers between balls and plastic tubes in recirculating channels. It also features dual ball return systems with deflectors that guide balls in tangential direction, away from shaft and into return channels integrated inside nut body. With dn rating of 160,000, product is capable of operating 40 mm dia ball screw at speeds to 4,000 rpm.
---
Original Press Release:

New High Speed Ball Screws With Elastic Spacers


Bedford, MA, March 4, 2005 -- Steinmeyer, Inc. announced a significant new option to its high speed ball screw product line - the UltraSpeed KES ball nut. By incorporating spacers between the balls and plastic tubes in the recirculating channels, Steinmeyer has succeeded in producing a ball nut specifically designed for applications demanding high speed capability as well as consistent pulsation-free motion at slow speeds.

As in our UltraSpeed nuts, that are increasingly popular among machine designers where compact design and high speed capability are important, the new UltraSpeed KES has dual ball return systems with deflectors. These deflectors guide balls in a tangential direction away from the shaft and into the return channels integrated inside the nut body.

Two important features reduce friction inside this new nut. First, the redesigned ball deflectors are compatible with Steinmeyer Elastic Spacers (ES) which are located in between the balls. And second, the ball return channels include plastic tubes. Because the plastic tubes allow full separation of the ball return from the nut body, the UltraSpeed KES design significantly reduces noise.

The UltraSpeed KES nut has the high speed capability of all UltraSpeed nuts (dn value of 160,000) and avoids the undesired inter-ball friction and torque build-up at slow speeds. This makes it the ideal solution in applications requiring high dynamic range as well as high surface quality of machined parts - e.g. high precision, high speed machining centers. With a dn rating of 160,000 the UltraSpeed series is capable of operating a 40 mm diameter ball screw at speeds to 4,000 rpm. Accelerations in excess of 2 g's are possible.

The new UltraSpeed KES high speed ball screw is now available in 40 mm diameter with 20 mm pitch. Other sizes are planned.

For further information on this new product or other ball screws in our extensive product portfolio call 1-800-297-6403 or visit www.steinmeyer.com.

More from Machinery & Machining Tools