High-Speed Ball Bearing increases aircraft engine efficiency.
Press Release Summary: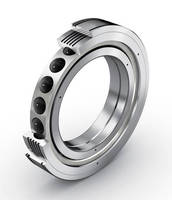 Exceeding 4 million mm/min speed parameter while using minimal cooling oil quantities of current type, ball bearing for high-speed bearing supports in main shafts of aircraft engines could reduce passenger aircraft fuel consumption. Efficiency and reliability are also due to direct cooling of outer ring and ceramic balls that help to reduce friction and weight. In addition to integrated oil damping of vibration loads, features include duplex hardened raceways.
---
Original Press Release:

FAG Aerospace Breaks Four-Million Speed Parameter Barrier for Engine Bearings



Technological leap towards more efficient aircraft engines



SCHWEINFURT, Germany -- FAG Aerospace, a member of the Schaeffler Group, has developed a new aircraft engine ball bearing that redefines the performance limits for high-speed bearing supports in main shafts. As part of the collaborative project "Effective Oil System," conducted under the Aviation Research Program (LuFo) funded by the Federal Ministry for Economic Affairs and Energy, FAG Aerospace has broken new ground by designing an engine bearing that for the first time exceeds the speed parameter of four million millimeters per minute and uses only minimal cooling oil quantities. The new bearing represents a significant technological leap in the development of more efficient engines and could reduce the consumption of the world's passenger aircraft fleet by up to 200,000 tons of fuel annually.



The newly developed ball bearing has been validated on a Schaeffler test stand where the testing program requirements, i.e. the simulated flight cycle, were coordinated in close collaboration with the project partner MTU Aero Engines.



The new cooling design enables a specific adjustment of the maximum permissible ring temperatures using the same oil quantities as for conventional bearings. This means that almost 70 percent higher speed parameters are achieved with identical bearing temperatures and oil quantities, so that current materials and cooling oils can be used despite higher circumferential speeds. In turn, if the speed parameters remain the same and smaller quantities of cooling oil are used, then the bearing temperatures will be up to 25 degrees Celsius lower and power losses reduced by up to 25 percent. All this adds up to increased efficiency and reliability of the bearing support.



The new aircraft engine bearing also features integrated oil damping of vibration loads. In addition, the performance-enhanced "duplex hardened" raceways provide greater robustness, strength and wear resistance, while reducing the rolling contact loads at the same time. The higher efficiency and reliability of the new ball bearing is also due to direct cooling of the outer ring and the ceramic balls that help to reduce friction and weight. Bearings in aerospace applications need to work with the utmost reliability even under the most critical operating conditions. These days, in the initial phase during take-off, speed parameters of up to 2.4 million millimeters per minute are achieved with the engine bearing investigated. However, to meet the future requirements of airlines as well as the constraints imposed by environmental and climate protection legislation, further improvements will be necessary with regard to the mechanical and thermal efficiency of aircraft engines over the next 20 years. As a consequence, enhanced speed and thermal load capabilities will be required for the bearings. And this calls for innovative materials, cooling concepts, manufacturing and heat treatment procedures, as well as advanced calculation and simulation methods.



About Schaeffler

Schaeffler, with its product brands INA, LuK and FAG, is a leading global automotive and industrial supplier. The technology company stands for the highest quality and innovation. Schaeffler makes a vital contribution towards the "mobility for tomorrow" with high-precision components and systems for engine, transmission and chassis applications, as well as rolling bearing solutions for a large number of industrial applications.  With more than 80,000 global employees and sales of approximately 11.2 billion Euros in 2013, Schaeffler is one of Europe's largest industrial companies with family ownership. It has a worldwide network of manufacturing locations, research and development facilities, sales companies and training centers at approximately 170 locations in 49 countries.



Schaeffler is a recognized development partner for global automakers and suppliers. To serve the North American automotive market, Schaeffler operates development centers in: Troy, Mich.; Fort Mill, S.C.; Wooster, Ohio; and Puebla, Mexico. The company's 500 North American engineers and technicians, who are supported by a team of more than 6,000 global engineers, drive development in the region by utilizing state-of-the-art test and measurement equipment, computational tools and CAD systems. Schaeffler Automotive has headquarters in Fort Mill and manufacturing facilities in: South Carolina; Missouri; Ohio; Ontario, Canada; Puebla and Irapuato, Mexico. For more information, please visit www.schaeffler.us.



Follow us on Twitter @schaefflerpress to get all of our latest press releases and news.



CONTACT: Lynn Kier, Vice President Communications and Marketing, Schaeffler Group USA Inc., Tel.: (803) 578-2929, Email: lynn.kier@schaeffler.com



Web Site: http://www.schaeffler.us