High School's Fans Are Ready to Cheer with Added Comfort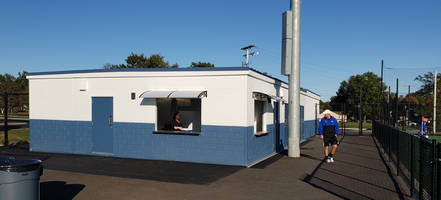 Portable toilets are convenient, but they are not a long-term solution. Those cheering on the Panthers at Quakertown High School's QNB Bank Field in Pennsylvania lived this, especially while standing in lines during games.
The school district made plans for a permanent structure to solve its outdoor bathroom problem while adding space for storage and a concession area. The school added a 30' x 75' restroom/concession/athletic storage and maintenance building constructed from Easi-Set precast modules and individual precast panels. The Field House was manufactured and installed by Oldcastle Infrastructure Inc., an Easi-Set Buildings licensed producer in Easton, Pa.
The completely custom structure consist of: one Easi-Set module without a floor set over existing electrical panels and computer equipment; six Easi-Set modules consisting of a men's bathroom, women's bathroom, athletic storage room, concession room and food storage room; and nine precast panels that form a 30' x 30' maintenance storage area with an 8'x 8' coiling door entrance. The structure has a brick over split face block precast liner finish, Sherwin-Williams H&C Concrete Stain in Extra White and Gallery Blue colors—the school's colors—and a standing seam metal roof installed over top of the precast concrete roof. Installation occurred on Sept. 11, taking just one day.
According to Robert Christine, the director of facilities for the Quakertown School District, precast concrete structures were chosen because the turnaround time was fast and the district has used them in the past. The school has seen added benefits since the install too. Functionality has improved at the field, the fans are happier when cheering on their team and a revenue source was created with the concessions. That's a win for Easi-Set precast concrete buildings!
​ Discover more about Easi-Set Buildings and its network of licensed producers at www.easisetbuildings.com or by calling 800-547-4045.
Oldcastle Infrastructure Inc. has more than 80 locations nationwide with 3,000 employees. Products range from utility vaults, reinforced concrete pipe, catch basins, drainage and septic tanks to retaining walls, storm shelters, wall panels, concrete barriers and more. Employees are committed to upholding core values of reliability, quality and service in cutting edge ways. Visit https://oldcastleinfrastructure.com or call 888-965-3227.
Easi-Set Worldwide, a wholly-owned subsidiary of Smith Midland Corporation, a public company, licenses the production and sale of Easi-Set products and provides diversification opportunities to the precast industry worldwide. Easi-Set's pre-engineered buildings are designed to provide durability, convenience and long-lasting security in a variety of applications. These maintenance-free structures are available through licensed precast concrete manufacturers across North America. Each producer manufactures Easi-Set's Buildings using a second generation post-tensioned roof and floor system to guarantee a weatherproof structure. For more information about Easi-Set Worldwide or licensing opportunities, contact Easi-Set by calling 800-547-4045 or visiting www.easiset.com.
Contact: info@easiset.com
More from Architectural & Civil Engineering Products