High-Resolution Modules enhance label inspection/finishing.
Press Release Summary: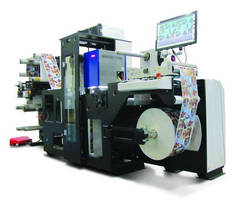 As new equipment option or retrofit, Security Series of fully integrated modules let end-users configure Rotoflex VSI, HSI, and VLI machines to meet changing requirements of pharmaceutical compliance and high-security packaging. Options available include Hi-Res, variable data, and braille inspection as well as bar code reading. Missing labels, remaining matrix, splices, flags, spots, fading/missing color, text defects, and registration can be detected. Full log reporting package is available.
---
Original Press Release:

New Rotoflex Security Series Brings Advancements in Stringent Label Inspection



Security Series modules can be fully integrated into the Rotoflex VSI, HSI and VLI product lines.



St Louis, Missouri USA



Rotoflex, a world leader in inspection, slitting, rewinding and die cutting equipment has released the new Security Series, bringing the latest advancements in stringent label inspection and finishing. The fully integrated modules seamlessly integrate into the Rotoflex VSI, HSI and VLI product lines, either as a new equipment option or as a retrofit to existing installations, enabling customers to configure their finishing solution to meet the ever-increasing requirements of pharmaceutical compliance and high security packaging.



Options available with the Security Series include very high resolution inspection, variable data inspection, braille inspection and bar code reading. Missing labels, remaining matrix, splices, flags, spots, fading and missing colour, text defects and registration can all be detected by the Security Series. In single-pass inspection mode, any repaired or replaced label will automatically be re-inspected before final slitting and finishing to ensure full compliance. A full log reporting package is available for regulatory audit requirements.



Rotoflex Security Series VLI with optional waste wind-up and top/bottom inkjet printing module

Built with the exclusive Rotoflex URC control system providing a user-friendly operator interface and the eDrive advanced web transport system, the Security Series also features the powerful Report Management System (RMS) tool for the collection and analysis of real-time production data, the new biometric (fingerprint) authentication for secure operator access, integrated inkjet and bar coding, backnumbering and more.



Another productivity advantage of the Security Series is integration with workflow or roll-mapping applications where press-side inspection systems generate a defect map which is sent to the rewinder. Defective area is automatically stopped at the splice table for repair or removal. The Rotoflex waste wind-up option can be added to remove large lengths of waste material while maintaining accurate length and label count. Very high rates of acceleration and deceleration coupled with accurate stop positioning ensure maximum production throughput.



"With the SPI, Rotoflex was a pioneer in engineering a solution with 100% inspection, counting and slitting of labels for the pharmaceutical and security market segments," comments Manohar Dhugga, Rotoflex director of engineering and service. "The new Security Series further revolutionizes pharmaceutical and compliance label finishing with incorporation of the latest in servo technology for ultimate control and automation, and new software developments that support both a standard and pharma/security mode with the push of a button, making it truly a multi-purpose machine. Our application design team has worked closely with pharmaceutical customers to ensure the Security Series complies with the most demanding and unique security inspection requirements, and is the preferred solution for increasing compliance demands."



The Security Series is Rotoflex's third new product release in the last three months, following the previously announced HSI horizontal slitter rewinder and Vericut3 for digital label finishing, reconfirming the company's commitment to Business Responsive Technology, innovation and design leadership.



About Rotoflex

With more than 8000 installations globally, Rotoflex is a world leader in inspection, slitting, rewinding and die cutting equipment. Rotoflex looks beyond the machine to the ultimate needs of its customers. We work in partnership to serve your unique, specific requirements. Our customer driven approach has made us the finishing partner of choice - for over 40 years. Rotoflex equipment is supported globally by the largest OEM Customer Support team in the industry.



A proud brand of Mark Andy Inc., (markandy.com) Rotoflex is an important aspect of the company's Total Solution Partner strategy. The business is headquartered in St. Louis, Missouri, USA, with sales and distribution offices worldwide.



Rotoflex. Leaders by design.



rotoflex.com



Media contact:

Heather Roth, Marketing Communications

Rotoflex

Telephone: +49 (0)4532 975 9719

hroth@rotoflex.com



Rotoflex | +1 636 532 4433 | sales@rotoflex.com | rotoflex.com



STAY CONNECTED:

Like us on Facebook

Follow us on Twitter

View our profile on LinkedIn

View our videos on YouTube

Find us on Google+

More from Fluid & Gas Flow Equipment