High-Reliability Supercapacitor operates from -30 to +85°C.
Press Release Summary: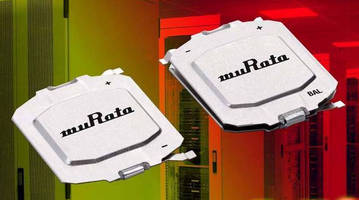 Supplied in 20.5 x 18.5 mm footprint package, DMG series utilizes active carbon technology and provides high-power backup. Each electrical double-layer capacitor (EDLC) achieves high reliability with 5-year life span at 70°C. With 1.4 mm profile, 2.1 V single-cell option provides nominal capacity of 700 mF and ESR at 1 kHz, 70 mW. Double-cell option (4.2 V) has 2.8 mm profile and nominal capacity of 350 mF and ESR at 1 kHz, 130 mW.
---
Original Press Release:

High Reliability EDLC Supercapacitor Ideal for Extended Temperature Long-Life Applications



Hoofddorp, Netherlands: Murata today announced the addition of the DMG series to the company's line of thin, low-resistance, electrical double-layer capacitors (EDLCs). The DMG supercapacitors, which provide high power back-up, achieve high reliability with a five-year life span at 70 degrees C, making them an ideal choice for enterprise solid state drive (SSD) manufacturers and telecom "last gasp" applications. Smart meters are also a key application for the DMG series as the full operating temperature range is - 30 degrees C to + 85 degrees C.

Murata's DMG series offers high voltage with very low equivalent series resistance (ESR) all within a miniaturized, yet robust package. Available in 2.1 V single-cell and 4.2 V double-cell options, the 2.1 V provides a nominal capacity of 700 mF with a profile of only 1.4 mm and an ESR at 1 kHz 70 mW. The 4.2 V device has a nominal capacity of 350 mF at 2.8 mm thickness and 130 mW ESR at 1 kHz.

The innovation behind Murata's high performance DMG EDLC is based on active carbon technology. Unlike traditional energy storage devices, the carbon, which is used as an electrode, without employing a chemical reaction, leads to the longer life cycle. Also, the capacitance is directly related to the surface area of the active carbon, giving the DMG series high capacitance values in a small and low profile design. Measuring only 20.5 mm x 18.5 mm x 1.4 mm, which leads the industry in compact packaging, Murata's EDLC series is designed for extended temperature applications.

Supercapacitors play a role in energy conservation applications, from memory backup in home appliances, mobile phones, information devices, and energy harvesting storage systems.

The basis behind this new technology is the result of Murata's collaborations with CAP-XX. In order to meet consumer demand for mobile devices with greater efficiency and functionality, Murata strategically acquired leading edge super cap technology from CAP-XX in 2008. Since then, Murata's focus on EDLC research and development, coupled with CAP-XX's expertise, has lead to the maturity of the enhanced EDLC design.

For further information and reader enquiries:
Aya Tonooka, Murata Europe Limited. Oak House, Ancells Road, Ancells Business Park, Fleet, Hampshire GU51 2QW , United Kingdom

Tel: +44 (0) 1252 811666 E-mail: ayatonooka@murata.co.uk
Fax: +44 (0) 1252 811777 Web: www.murata.eu

Agency contact:
Robert Huntley, Publitek Limited, 18 Brock Street, Bath, BA1 2LW, United Kingdom

Tel: +44 (0) 1225 470000 E-mail: robert.huntley@publitek.com
Fax: +44 (0) 1225 470047 Web: www.publitek.com

About Murata
Murata is a leading manufacturer of electronic components, modules, and devices. The complete range of this Ceramics Technology house includes ceramic capacitors, resistors/thermistors, inductors/chokes, ceramic resonators, buzzers, sensors and EMI suppression filters. Whilst the company gets 40% of its revenue from its ceramic capacitor products, it is also the world leader in Bluetooth & WiFi Modules, and a key manufacturer of power supplies. Murata also designs and manufactures mobile handset antenna families, piezoelectric actuators for fuel injection systems, short focal length ceramic lenses and speaker products.

Established in 1944, Murata is headquartered in Japan and has European offices in Germany, the Netherlands, the UK, Switzerland, Italy, France, Spain, Denmark, Sweden, Finland and Hungary.

For more information on Murata, please visit: www.murata.eu. You can also follow us on Twitter @MurataEurope or LinkedIn www.linkedin.com/company/murata-electronics, or join us on Facebook at http://www.facebook.com/MurataElectronics.

More from Material Processing