High-Reliability Color LEDs function in extreme conditions.
Press Release Summary: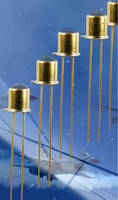 Processed to MIL-PRF-19500-level TX and TXV specifications, OVM4x series comes in hermetically sealed TO-46 package with built-in ESD protection and lets military systems engineers achieve high-brightness color illumination and indication with well-defined patterns. Blue (2,260 mcd, 460-470 nm), green (6,520 mcd, 520-540 nm), red (3,330 mcd, 619-629 nm), and yellow (2,010 mcd, 584-594 nm) LEDs serve defense electronics, military vehicle lighting, and harsh industrial applications.
---
Original Press Release:

TT electronics OPTEK Technology Develops High-Reliability Visible Color LEDs for Use in Military & Harsh-Environment Industrial Applications



Hermetically sealed TO-46 package contains built-in ESD protection for LEDs...

Carrollton, TX: Providing military systems engineers the ability to achieve high brightness color illumination and indication with well-defined patterns, TT electronics OPTEK Technology has developed a series of high-reliability, high-sensitivity color LEDs processed to MIL-PRF-19500-level TX and TXV specifications. Designated the OVM4x series, the visible LEDs feature hermetically sealed TO-46 package with built-in ESD protection, and are available in blue, green, red and yellow. Unlike commercial LEDs, these devices are designed to function in extreme conditions that are typically found in defense electronics, military vehicle lighting and harsh industrial applications.

"As more lighting applications in military electronics are being implemented with solid state light sources, we recognized the need for a high-reliability, ruggedized version of our color LEDs that incorporated built-in ESD protection," said Rodney Bailey, vice president of optoelectronic component solutions for TT electronics OPTEK Technology. "The OVM4x Series combines our high-brightness LEDs with a proven hermetically sealed TO-46 package that is specifically designed to withstand the severe levels of mechanical, environmental and electrical stress typical in field-deployed military electronics systems."

According to Bailey, the OVM4xTX and OVM4xTXV LEDs are processed to OPTEK's 100% screening and QC program patterned after MIL-PRF-19500 standards, with Group A and B testing performed on each lot. Group C testing is performed every six months to ensure reliability.

Color intensity and dominant wavelength specifications for the OVM4x Series LEDs are as follows:

OVM4BTX/TXV blue LEDs are made of indium gallium nitride (InGaN) with typical luminous intensity of 2260mcd and dominant wavelength from 460 - 470nm at IF=20mA. Forward voltage is rated from 2.60V (typical) to 2.95V (max.)


OVM4GTX/TXV green LEDs are made of indium gallium nitride (InGaN) with typical luminous intensity of 6520mcd and dominant wavelength from 520 - 540nm at IF=20mA. Forward voltage is rated from 2.60 (typical) to 2.95V (max.)


OVM4RTX/TXV red LEDs are made of aluminum indium gallium phosphide (AlInGaP) with typical luminous intensity of 3330mcd and dominant wavelength from 619 - 629nm at IF=20mA. Forward voltage is rated from 1.8 (typical) to 2.15V (max.)


OVM4YTX/TXV yellow LEDs are made of aluminum indium gallium phosphide (AlInGaP) with typical luminous intensity of 2010mcd and dominant wavelength from 584 - 594nm at IF=20mA. Forward voltage is rated from 1.8 (typical) to 2.15V (max.)

All LEDs in the OVM4x series exhibit continuous forward current of 100 mA, with a peak forward current rating of 1.6A (@10% duty cycle, 1KHz). Power dissipation is 370 mW; with a current linearity vs. ambient temperature rating of -0.2mA/°C. Operating temperature range is from -55°C to +100°C.

Packaged with a clear glass lens, the LEDs feature a viewing angle of 18°.

Typical pricing for the OVM4x Series LEDs is $10.08/ea in quantities of 1,000, the OVM4xTX Series is $14.56/ea in quantities of 1,000 and the OVM4xTXV Series is $14.80/ea in quantities of 1,000. Lead times will vary due to testing requirements. If stock is not available the OVM4x Series lead time is from 10 to 12 weeks, the OVM4xTX lead time is from 18-20 weeks and the OVM4xTXV series lead time is from 18-20 weeks.

For further information please visit: www.optekinc.com/contactus.aspx, or email the TT electronics North America Sales Office at sales@ttelectronics-na.com. To access the data sheet and other product information for the OVM4x Series LEDs, visit: http://www.optekinc.com/viewparts.aspx?categoryID=6

Visit the TT electronics at the AUSA show in Washington D.C, booth number 2060.

About OPTEK Technology
OPTEK Technology, a division of TT electronics, is a leading manufacturing and solutions provider for sensing and illumination covering the infrared, visible and ultraviolet spectrum; with standard as well as application specific products for a variety of markets, including, but not limited to office machines, industrial equipment, encoders, automotive electronics, military and high-reliability applications, medical diagnostic equipment and solid-state lighting. Headquartered in Carrollton, TX, the company is ISO/TS 16949:2009 and BS EN ISO 9001:2008 certified, as well as ITAR registered.

About TT electronics PLC
TT electronics plc is a focused, global electronics group supplying leading manufacturers in the defense, aerospace, medical, transportation and industrial markets. The Group consists of five divisions: Components, Sensors, Secure Power, Integrated Manufacturing Services and General Industrial each delivering technology, products and services to customers in target markets worldwide. TT electronics plc operates from headquarters based in Weybridge, Surrey, with more than 20 global manufacturing locations and more than 6,000 employees worldwide.
Additional information is available from our corporate website: http://www.ttelectronics.com/.

Marketing contact:
Charlotte Waters, Marcom Manager, TT electronics plc
4222 S. Staples St., Corpus Christi, TX, 78411
Tel: +1-361-985-3166
charlotte.waters@ttelectronics-na.com

More from Computer Hardware & Peripherals