High-Reflectance LCDs are readable in high ambient light.
Press Release Summary: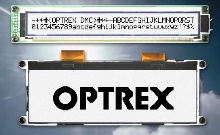 Series HR Transflective STN LCD Modules provide high-contrast black pixels on silvery, winter-white background. Available with white LED backlights, units operate from -20 to +70°C. Graphic LCDs come in 2.8 in. diagonal size with 128 x 64 dot pixel format, 4.7 in. diagonal with 160 x 128 format, and 5.2 in. diagonal with 260 x 64 format. Display formats for Character Modules include 40 character x 2 line, 40 character x 4 line, 16 character x 2 line, and 20 character x 4 line.
---
Original Press Release:

New Optrex High-Reflectance LCDs Provide Excellent Clarity And Readability In High-Ambient-Light Conditions


Plymouth, MI, March 29, 2005 - A new series of highly reflective monochrome graphic and character LCDs from Optrex America, Inc. offers designers a new range of display solutions for outstanding readability in any ambient lighting condition, with exceptional performance over a wide operating temperature range.

Optrex's new Highly Reflective (HR) transflective STN LCD modules provide very-high-contrast black pixels on a silvery, "winter white" background. This highly reflective background reflects a much higher percentage of ambient light back to the viewer. HR series LCDs provide exceptional clarity, sharpness and readability in all types of ambient lighting conditions while giving designers an attractive display in an industry standard configuration that enhances the functionality and appearance of their end product.

Available with white LED backlights, the HR series is ideal for applications where the LCD may be used in high ambient lighting conditions, including direct sunlight (reflective mode), or without a backlight (transmissive mode). Operating temperature for all HR graphic and character modules is -20° to +70º C.

"What Optrex has done is taken the display technology we developed, and which has proven highly successful in the marketplace, and made it available in a series of standard LCD modules that be can used by all of our customers in a variety of applications," said John Cramer, Marketing & Business Development Manager for Optrex America. "They can be purchased in-stock from any Optrex franchised distributor."

Applications for Optrex's HR Series include handheld industrial instruments, MP3 players, appliances, industrial panel meters, medical diagnostic instruments, gas pumps, vending machines and automotive fleet information systems.

Optrex's new Highly Reflective LCDs include a range of graphic and character modules, all available in industry-standard configurations and compatible with existing Optrex LCDs to provide an easy upward migration path for designers. All HR modules are built in complete compliance with the European Union's RoHS (Reduction of Hazardous Substances) Directive that restricts the use of certain hazardous substances such as lead, mercury and cadmium in electrical and electronic equipment by July 2006.

New HR Series graphic LCDs are available in 2.8-inch diagonal size with 128 x 64 dot pixel format (F-51852); 4.7-inch diagonal size with 160 x 128 format (F-51854); and 5.2-inch diagonal size with 260 x 64 format (F-51851).

Optrex HR Series Character Modules are available in 40 character x 2 line display format (C-51850); 40 character x 4 line display format (C-51849); 16 character x 2 line format (C-51848) and 20 character x 4 line format (C-51847).

Pricing for Optrex's F-51852GNFJ-SLW-AEN HR graphic module starts at $16.16 in OEM quantities. For detailed pricing information, contact your authorized Optrex distributor.

For more information, contact John Cramer at Optrex America, Inc., 46723 Five Mile Road, Plymouth, MI 48170. Tel: 734-416-8500; Fax: 734-416-8520; E-mail: jcramer@optrexusa.com; Web: www.optrex.com.

Optrex is a world leader in the design and manufacture of OEM liquid crystal displays (LCDs) for an expanding line of products that includes displays for telecommunications and non-PC Internet devices; test, measurement and diagnostic instruments; handheld data management equipment; and automotive and avionics displays. Founded in 1976, Optrex has followed an aggressive policy of growth and expansion and now serves customers through an extensive in-field network of applications engineers and more than 100 sales and distribution offices throughout the world. The Optrex technology palette includes Active-MLA (multi-line addressing), TFT (thin film transistor), VHC (very high contrast), STN (super twisted nematic), HPC (high performance color) for car audio applications, TFCC (trim fine crystal color) for color mobile products, and OLED (organic light emitting diode).

More from Material Processing