High-Quality, Reliable Processing for Brazilian PVC Pipe Producer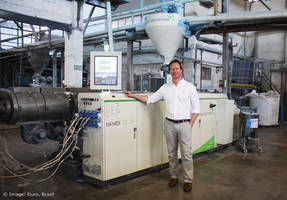 Duro is a well-known pipe producer from central Brazil, active in several business areas. For the expansion of their water well lining production, they bought a new twin screw extruder for their headquarters at Goiania, GO, Brazil.
The company now has two extruders from battenfeld-cincinnati's twinEX series in their production facility.
"We have been running a twinEX in our production since 2015 and have had consistent good performance with it. When we expanded our business, we decided to invest in another twinEX. The pipe quality is excellent and we appreciate the level of local support we receive from battenfeld-cincinnati. The reliability and consistently good processing performance are a decisive advantage for us as well," says Leonardo Brito Ferreira, owner of Duro.
Duro bought its first battenfeld-cincinnati twinEX 93-34 parallel twin screw extruder in 2015. They closed the deal for a second machine at K 2016, due to their good experience with the first. The second machine was delivered in summer 2017. The extruders produce PVC pipe for water and sewage transport as well as water well linings for the Brazilian market.
About Duro
Duro produces a wide range of building, sanitation, geo-duct (well-lining) and irrigation pipes as well as decorative lining made from PVC. From its headquarters in Goiania, GO and its subsidiaries in Espirito Santo, ES and Minas Gerais, MG, Duro serves customers across Brazil.
About battenfeld-cincinnati
battenfeld-cincinnati is a globally active supplier of energy-efficient, customized equipment and complete extrusion lines for pipe, profile, thermoforming sheet and pelletizing. The company has a long history in the extrusion sector and operates from production sites in Germany, Austria, China and the USA. A dedicated sales and service team ensures the best support for customers worldwide.
www.youtube.com/BattenfeldCincinnati
More from Communication Systems & Equipment