High Purity Silicon Gran-U-Lizer(TM)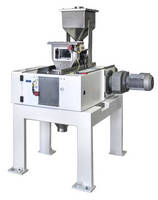 Modern Process Equipment Corporation (MPE, Chicago, IL) features a line of high purity silicon Gran-U-Lizers(TM) with exclusive material technology for ultra-high purity grinding applications. These grinders utilize proprietary materials of construction to protect the purity levels of the silicon while minimizing contamination to low parts per billion [ppb] levels. Additionally, our Gran-U-Lizers(TM) deliver unmatched uniformity with few "fines" and easily adjust to achieve median particle sizes from 120 to 5,000 microns.

About MPE

Modern Process Equipment Corporation (MPE) is the world's leading manufacturer of precision particle reduction equipment. MPE has been supplying its customers with superior particle size reduction solutions for over fifty years, earning the reputation as the place to go to improve product yields and reduce the generation of unwanted fines. MPE aspires to design and manufacture the most modern, innovative and highest quality equipment with the most responsive, practical and timely service possible. For more information about MPE's complete line of equipment, contact Modern Process Equipment Corporation at 3125 South Kolin Avenue, Chicago, IL 60623, call 773-254-3929 or visit www.mpechicago.com.


More from Laboratory and Research Supplies and Equipment