High-Production Wide-Format Printer targets display graphics market.
Press Release Summary: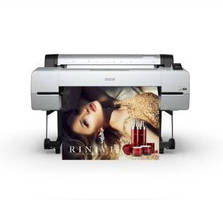 For print shops dealing with indoor display graphics or large photographic and fine art, SureColor® P10000 uses optimized media feeding system and inductive rollers to support cut sheet loading for 13 x 19–44 in. wide media as well as straight-through poster board media up to 1.5 mm thick from 17–44 in. wide. Integrated 8,000 nozzle, 10-channel, 2.6 in. tall PrecisionCore® MicroTFP® print head supports resolutions to 2,400 x 1,200 dpi and variable size ink droplet technology as small as 3.5 pL.
---
Original Press Release:

Epson Expands SureColor P-Series Line with High-Production 44-Inch Display Graphics Printer



Epson SureColor P10000 Delivers High-Production, High-Quality Output to the Display Graphics, Fine Art and Photography Markets



LAS VEGAS – (WPPI, Booth #711) - Epson today announced its latest wide-format printer designed for the display graphics and fine art photography markets - the high-production 44-inch SureColor® P10000. Ideal for commercial and production print shops managing indoor display graphics applications and large photographic and fine art fulfillment needs, the SureColor P10000 leverages an impressive 8,000 nozzle PrecisionCore® MicroTFP® print head, innovative media feeding system, and reformulated Epson UltraChrome® PRO nine-color pigment ink system to provide unparalleled production speeds and unmatched print quality. When compared with other Epson solutions on the market, the new SureColor P10000 is capable of producing quality output up to 2.8 times faster.



"Epson understands the needs of our professional imaging customers. We are focused on providing customers with reliable printing solutions that can produce graphics, fine art and photography at high speeds without compromising quality," said Larry Kaufman, product manager, Epson Professional Imaging, Epson America. "The SureColor P10000 is ideal for commercial printers who are not only limited by space, but who strive to more efficiently produce output to meet production deadlines and customer turn-around times."



The SureColor P10000 utilizes an all-new 2.6-inch tall, high-performance 10-channel PrecisionCore MicroTFP print head capable of printing output at exceptionally high resolutions up to 2,400 x 1,200 dpi, ideal for the demanding upscale retail display graphics and fine art photography printing community. Combined with the new Epson UltraChrome PRO nine-color pigment ink system, the SureColor P10000 provides outstanding color and black density. Epson UltraChrome PRO is the first pigment ink set to feature four-levels of gray ink technology, including Gray, Light Gray, Dark Gray, and Black pigments to provide seamless transitions with less visible noise and reduced bronzing for superior grayscale output. In addition, the SureColor P10000 utilizes improved Resin Encapsulation Technology for output with superior gloss uniformity, and exceptional overall contrast ratio and clarity. In addition, this latest generation color pigment technology significantly improves overall print permanence - resulting in prints with exceptional ability to preserve the legacy of the artist.



More About the SureColor P10000

The high-production SureColor P10000 joins the 64-inch SC-P20000 in offering several innovative features to the display graphics, fine art and photo industries, including:



--  Epson PrecisionCore MicroTFP Print Head Technology: 2.6 inch tall, ten-channel print head offers high-performance and consistency to deliver high-production, high-quality output. Supports variable size ink droplet technology as small as 3.5 picoliters for remarkable print quality. New enhancements include Nozzle Verification Technology and automatic nozzle cleaning without the use of additional media.

--  Epson UltraChrome PRO Inks: UltraChrome PRO inks utilize the first four-level gray ink technology to produce outstanding grayscale prints. New Yellow pigment formulation for up to twice the overall print permanence and longevity when compared with previous generation ink set. Individual ink cartridges up to 700 ml enable users to avoid production downtimes and maximize profitability. The SureColor P10000 is designed exclusively for use with Epson ink cartridges(1).

--  New Advanced Media Feeding System: Featuring an all-new media feed system, the SureColor P10000 captures photographs from the back side of the media in real-time and incorporates a pattern recognition algorithm providing feedback up to 60 timers per second ensuring accurate and precise media feed. In addition, new inductive rollers automatically load roll media without a skew and protect sensitive fine art media from scratches throughout the printing process.

--  Advanced Black & White Printing Technology: Utilizes a four-level black system to optimize black & white print quality and a unique screening algorithm for producing professional black & white prints. Dedicated Photo Black and Matte Black channels support automatic real-time black Ink type switching.

--  Advanced Cut Sheet Media Handling: Ideal for softer fine art papers, such as the Epson Legacy Paper line, the SureColor P10000 supports accurate cut sheet media loading for 13" x 19" up to 44" wide. In addition, the SureColor P10000 supports straight-through poster board media up to 1.5mm thick from 17" to 44" wide. Border Free printing is also supported for a variety of media sizes.

--  Internal Print Server: A secure, internal 320GB print server included with the printer boosts workgroup productivity by quickly transferring print jobs to free-up workstations; adds print queue management, as well as print job save and reprint functionality.

--  Optional Auto Take-up Reel System: User-installable and intended for unsupervised production of large print runs with roll-to-roll requirements; available for $1,295*.



The Epson SureColor P10000 will be on display at WPPI, March 7-9, 2016 at the MGM Grand Conference Center in Las Vegas in Epson's booth (#711).



Pricing, Support and Availability

The Epson SureColor P10000 will be available in Spring 2016 for $6,995 (MSRP) through authorized Epson Professional Imaging resellers. The Epson SureColor P10000 offers a standard Epson Preferred(SM) Limited Warranty, a one-year program that includes toll-free advanced telephone access Monday through Friday and usually next business-day on-site service in the unlikely event of any hardware failure. Epson Preferred Plus service plans are available that cover both the hardware and software for up to two additional years. For additional information, contact your local dealer or visit www.proimaging.epson.com.



About Epson

Epson is a global technology leader dedicated to driving innovations and exceeding customer expectations in printing, visual communications, quality of life and manufacturing. Epson's lineup ranges from inkjet printers, printing systems and 3LCD projectors to industrial robots, smart glasses and sensing systems and is based on original compact, energy-saving, and high-precision technologies.



Led by the Japan-based Seiko Epson Corporation, the Epson Group comprises nearly 72,000 employees in 93 companies around the world, and is proud of its contributions to the communities in which it operates and its ongoing efforts to reduce environmental burdens.



Epson America, Inc., based in Long Beach, Calif., is Epson's regional headquarters for the U.S., Canada, and Latin America. To learn more about Epson, please visit: epson.com. You may also connect with Epson America on Facebook (facebook.com/Epson), Twitter (twitter.com/EpsonAmerica), YouTube (youtube.com/EpsonAmerica), and Instagram (instagram.com/EpsonAmerica).



(1) Each printer is designed to use only EPSON ink cartridges and not other brands of new or refilled cartridges, or other brands of ink or bulk ink systems. Using EPSON cartridges is important for reliable performance and high image quality. Epson offers voluntary recycling of spent ink cartridges.



Note: EPSON, PrecisionCore, SureColor, TFP, and UltraChrome are registered trademarks and EPSON Exceed Your Vision is a registered logomark of Seiko Epson Corporation. Epson Preferred is a servicemark of Epson America, Inc .Adobe and PostScript are either registered trademarks or trademarks of Adobe Systems Incorporated in the United States and/or other countries. All other product brand names are trademarks and/or registered trademarks of their respective companies. Epson disclaims any and all rights in these marks.



CONTACT:

Duane Brozek

Epson America, Inc.

562-290-5683 

Duane_Brozek@ea.epson.com



Stephanie Johnson

Walt & Company

408-369-7200, ext. 1048

sjohnson@walt.com



Web Site: http://www.epson.com

More from Mounting & Attaching Products