High Production Rate Powder Spray Gun can be used anywhere.
Press Release Summary: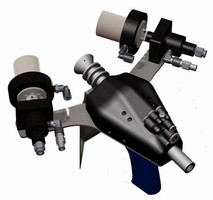 Xiom 5000 Scorpion uses propane and air to provide wide spray and eliminates need for pre-heating under normal ambient conditions. Gun permits user to start/stop spraying process and diffuses gases so that flame heats coatings to their melting point and sprays them onto surface without clogging nozzle. System is adjustable for feedstock material, weather conditions, or metal substrate thicknesses. Spray system includes gun, powder feeder, and control console.
---
Original Press Release:

Xiom Corp. Introduces High Production Rate Spray Gun: Do-It-Yourself Polymer Powder Coating is Now Five Times Faster



W. Babylon, NY, February 1, 2008-Xiom Corporation (www.xiom-corp.com), developers and manufacturers of the first completely portable polymer powder spray system, has now brought to market a high production rate powder spray gun. With its patent-pending triple venturi, the Xiom 5000 Scorpion sprays at up to five times the rate of the current Xiom 1000. The Xiom 5000 connects to the existing Xiom 1000 control console without modification and has the same portability. The new gun provides both the application rate and cosmetic look that field contractors demand.

The new wide spray, high rate gun is economical to use, substantially cutting labor costs by covering larger areas in less time and by eliminating most of the need for pre-heating under normal ambient conditions. Parts are not subject to wear and the patent-pending wide spray pattern nozzle eliminates nozzle clogging that results when the polymer material melts in the nozzle. The gun uses only propane and air rather than the more costly oxygen. One 20-pound propane tank will last for eight hours of spraying. Due to the gun's high BTU output, full melting and bonding of the polymer coating is ensured as is the long life of the coating.

Xiom 5000 Scorpion is also versatile. Like the Xiom 1000, it is completely portable and can be used anywhere. Now, more uniform coatings can be applied even thinner or thicker than before, and the system is easy to adjust for different feedstock materials, weather conditions or metal substrate thicknesses. The wide spray pattern is enhanced by a unique compression wave generated by two impinging burner cans. This ensures rapid heat transfer at an apex and at a point of lower temperature to melt the polymer powder materials. The system's ease of operation means that anyone can learn to use it in a matter of hours.

The Xiom system is now being marketed with both the Xiom 1000 and the Xiom 5000 spray guns, a powder feeder and control console. The control console controls the flow of propane, oxygen and compressed air, as well as the delivery of the coating material. The gun, which permits users to start and stop the spraying process, diffuses the gases, forming a "perfect flame." The flame heats the Xiom coatings to their melting point and sprays them onto a surface. The melted plastic then forms a chemical bond with that surface and hardens instantly.

Xiom has also designed a complete line of unique mixed polymer coatings to be used with its spray system. Because these coatings are actually a hard plastic, they are more durable and weather resistant than conventional powder coating and there is no dripping, no overspray problems and absolutely no VOCs (volatile organic chemicals). Xiom's coatings line comes in many colors and has a large number of uses.

In addition to preventing rust and corrosion, the coatings can be used to protect marine hulls, halt the growth of mold, provide for easy removable of graffiti, create non-slip surfaces and generally prolong the life of metal, glass, fiberglass, wood and concrete.