High-Pressure Thermocouples suit LDPE production.
Press Release Summary: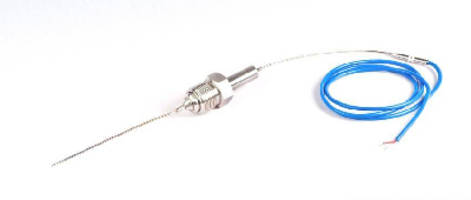 With max pressure of 3,500 kg/cm², High-Pressure Thermocouples offer typical response time of 0.27 s and are available with variety of connections, including screwed, clamped, or ring. All pressurized joints are vacuum brazed, and mineral-insulated cable features thick wall construction. In addition to temperature measurement in LDPE production, thermocouples are suited for use in plastic injection molding machines.
---
Original Press Release:

High Pressure Thermocouples Offer High Reliability in LDPE Production



The accurate measurement of temperature in the production of low-density polyethylene (LDPE) is critical. Consistent, high quality end product can only be guaranteed if the temperature can be accurately measured and controlled. In LDPE synthesis, the thermocouple must withstand extreme operating conditions, including very high process temperatures of up to 650 deg C, as well as coupled high pressures of up to 4,500 bar.

Okazaki Manufacturing Company (OMC) has developed a range of thermocouple assemblies that suit high-pressure applications, including temperature measurement in LDPE production and for use in plastic injection moulding machines. The thermocouples are manufactured in-house at OMC's production site in Japan, giving OMC complete control over thermocouple quality.

LDPE is used in a wide variety of applications, depending on the property mix. A wide range of products for both homopolymers and copolymers enables a variety of film applications, including shrink wrap, heavy duty packing films, films for laminates, carrier bags, composite and crack films, deep freeze bags and agricultural films. LDPE is also found in numerous medical and pharmaceutical applications, as well as being ideal for coating steel pipes and coaxial cables.

At OMC, all pressurised joints on the thermocouple are vacuum brazed in-house using a fully automated brazing process. This ensures that human intervention is minimised, which reduces process errors and defects, thereby improving the quality, repeatability and reliability of the thermocouple. Vacuum brazing ensures a high quality thermocouple, as the process is always carried out under the same controlled conditions. Heat treatment can also be integrated into the brazing cycle; ensuring correct mechanical properties are obtained.

An equally important factor in thermocouple design and operating performance is the cable, which also needs to withstand the extreme operating environment. Chris Green, Product Manager at OMC comments: "OMC's AEROPAK range of thick-wall, mineral-insulated cable is also manufactured in house. The thick wall construction enables the diameter of the sensor measuring probe to be reduced, which improves overall response time of the sensor, whilst maintaining the overall pressure rating."

An OMC high-pressure thermocouple has a typical response time of 0.27s, which is around three times faster than a conventional temperature sensor with thermowell (0.97s). Maximum pressure is up to 3,500 kg/cm2.

Chris Green continues: "Twisting, flexing and vibration are critical factors when evaluating thermocouple materials. Choosing the wrong material can cause premature failure of the sensor, resulting in costly production downtime for the end user. Our experienced engineers evaluate each customer application, in order to ensure that the appropriate design and brazing alloy are selected."

OMC's thermocouples are available with a wide selection of connections, including screwed, clamped or ring (waver, lens and cone). The thermocouples can also be customised to suit individual customer specifications. The thermocouples are third party pressure tested to 45,000 PSI and issued with their own calibration certificate.

For more information on OMC's range of high temperature thermocouples, please visit the website at www.okazaki-mfg.co.uk or contact the sales department on 01443 740777 or email: info@okazaki-mfg.co.uk

Okazaki Manufacturing Company (OMC) was founded in 1954 and started the design and manufacture of temperature-related products in Kobe, Japan. The company has always been at the forefront of product design and the use of innovative technology. In 1963, OMC developed Resiopak, a metal-sheathed MgO insulated resistance thermometer now used for temperature measurement within the petrochemicals industry globally.

Today, OMC designs and manufactures a wide range of reliable, high quality, high accuracy temperature measurement products. With a turnover in excess of 110 million USD, OMC is one of the largest manufacturers of mineral insulated (MI) thermocouple and RTD cable, which is the first building block of industrial temperature sensors. OMC operates from a series of specialist sales support offices worldwide, backed up by a team of local representative companies all with specialist instrumentation departments. OMC has manufacturing sites in Japan, USA and Taiwan.

All OMC's temperature products can be fully certified for use in potentially explosive atmospheres to International Standards and to country-specific variations. OMC temperature assemblies are certified by FM for NEC (USA) standards, BASEEFA for IECEx Product Approval and for type approval in compliance with EU ATEX directives. Country-specific approvals include GOST K, GOST R, NEPSI (China) and KOSHA (Korea).

Reader Enquiries/Advertising:

Chris Chant

Business Development Director

Okazaki Manufacturing Company

Ashwood House,

66 Cardiff Road,

Glan-y-Llyn,

Taffs Well,

Rhondda Cynon Taff,

CF15 7AF

Tel: 02920 814361

Email: chris.chant@okazaki-mfg.co.uk

Web : www.okazaki-mfg.co.uk

More from Mechanical Components and Assemblies