High-Pressure Pumps feature nested seal technology.
Press Release Summary: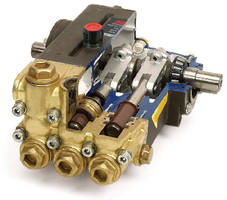 Used in industrial-grade pressure washers, High-Pressure Pumps feature NESTechnology(TM), where seals of packing assembly nest in place, supporting side walls and extending seal life. Nesting assembly holds up to spikes in water pressure, which occur every time pressure washer's gun is triggered. Teflon® bronze rings support U-Seal to prevent premature wear and loss of pressure, while U-Seal has double lip to optimize suction and minimize chance of water leakage.
---
Original Press Release:

Hotsy Introduces NESTechnology(TM) in our High-Pressure Pump



Hotsy, the number one name in North America for high-pressure cleaning equipment is pleased to introduce the latest innovation to the Hotsy high-pressure pump - NESTechnology(TM). Hotsy high-pressure pumps are used in industrial-grade pressure washers distributed throughout North America.

What is NESTechnology(TM)? It stands for Nested Seal Technology, where the pump actually "nests" the seals of the pump's high-pressure packing assembly in place, supporting the side walls, and resulting in greatly increased seal life.

The unique technology of the nesting assembly includes new high and low-pressure U-shaped seals surrounded by thicker brass pressure rings. This provides better wall support while withstanding higher water temperatures. This results in Hotsy pumps having 3 times the seal life over similar pumps in the industry.

Other features of the new Hotsy high-pressure pump include:

o Extended time between seal replacement, greatly reducing maintenance costs.

o Teflon bronze rings support the U-Seal to prevent premature wear and loss of pressure.

o The low-pressure U-Seal has a unique double lip to provide for greater suction and less chance of water leakage.

o The nesting assembly is stronger and holds up better to spikes in water pressure, which occur every time the pressure washer's gun is triggered.

Seals are a wear item in a pump because of the intense pressure they are subjected to. Hotsy's nested seal technology holds up better, and has improved the seal life by changing the geometry of the packing assembly and providing greater support to the seals. The end result is a high-performance pump with extended service life.

For over 35 years, Hotsy has been providing cleaning solutions to a number of industries. Hotsy manufactures a full line of high-pressure cleaning equipment, including hot and cold-water pressure washers, automatic parts washers, biodegradable detergents as well as pressure washer replacement parts and accessories. Hotsy equipment is available exclusively through our network of authorized dealers located throughout North America.