High-Pressure Pumps boost utility vehicle energy efficiency.
Press Release Summary: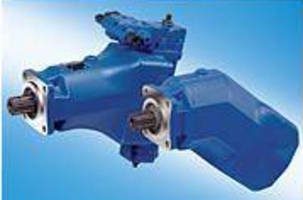 As axial piston pumps for power take-offs (PTOs) on utility vehicles, A18 series features auto-suction capacity and is based on oblique axis principle. Aluminum housings lessen vehicle weight and reduce load on PTO. While A18FDO dual-circuit constant pump produces 2 separate delivery flows with mutually independent pressure levels to 400 bar, A18VO adjustable pump with axial piston drive operates from 350-400 bar and delivers adjustable volume flow based on required delivery volume.
---
Original Press Release:

More Efficiency - Less Operating Costs: New Rexroth High-Pressure Pumps Boost Energy Efficiency of Utility Vehicle Power Take-offs



The Rexroth A18 - the new generation of high-pressure pumps for PTO's on utility vehicles: Dual-circuit constant (right) and adjustable (left) pumps cover wide scope of vehicle-mounted applications.

Lower operating costs and greater output and efficiency - hallmarks of the new generation of Rexroth high-pressure axial piston pumps for utility vehicles. Pumps from the A18 series have been developed especially for use in power take-off applications in truck timber-loading cranes, tippers, and hook equipment units, and optimize power transfer thanks to an extended pressure range. This increases the lifting and gripping power, for example, of loading cranes. In the adjustable pump variant, and as the dual-circuit constant pump, these cover a wide range of operations. And with an eye to the conditions under which the pumps operate on mobile equipment units, the engineers have put particular emphasis in the new development on achieving the most favorable dimensions possible for the pumps.

The compact design of the new A18 generation of high-pressure pumps is based on the oblique axis principle, tried and trusted in tough application situations, and allows for integration in even the most restricted installation spaces. In this situation, the flanges and shafts, built to international standards, make direct attachment to the PTO unit simplicity itself. Aluminium housings, optimized by FEM analyses, help save weight on the vehicle, and reduce the load on the power take-off. Rexroth development experts have also cut vibrations and noise emissions to a minimum thanks to sophisticated design techniques. All the variants of the A18 series have excellent auto-suction capacity, making them ideally suited for the revolution speeds typically encountered in utility vehicle operation.

The new Rexroth A18FDO dual-circuit constant pump in rated dimensions 63 and 80 produces two separate delivery flows with mutually independent pressure levels, which reduces choke losses. The wide pivot angle of 40 degrees, combined with the compact dimensions, increases versatility of performance, while the pressure range, boosted to 400 bar, improves the efficiency of the system as a whole. The auto-suction pump does not need a leak fluid line which makes it more cost efficient and requires less space.

Another new development is the A18VO adjustable pump with axial piston drive, operating in the pressure range from 350 to 400 bar, particularly well suited for use on large loading cranes such as in forestry operations. The adjustable volume flow is always based on the actual delivery volume needed, and that means a clear boost to energy efficiency. Regulation is implemented optionally by way of a pressure regulator and load-sensing function, or by an electrical proportional adjustment with positive and negative identification. Adjustment of the pumps, available in rated sizes 80 and 107, is stepless from zero up to the maximum value. The A18VLO variant, with the identical performance features, also has a long-life bearing system for extended service life.

Bosch Rexroth AG is one of the world's leading specialists in the field of drive and control technologies. Under the brand name of Rexroth the company supplies more than 500,000 customers with tailored solutions for driving, controlling and moving. Bosch Rexroth is a partner for industrial applications and factory automation, mobile applications and using renewable energies. As The Drive & Control Company, Bosch Rexroth develops, produces and sells components and systems in more than 80 countries. In 2008 Bosch Rexroth AG, part of the Bosch Group, achieved sales of around 5.9 billion Euro with 35,300 employees.

For more information please visit: www.boschrexroth.com

Reader Inquiries:
Olaf Marshall
Phone: +49 7308 8170-2262
Fax: +49 7308 8170-2683
E-mail: olaf.marshall@boschrexroth.de

More from Fluid & Gas Flow Equipment