High-Pressure Natural Gas Injection Filters reduce downtime.
Press Release Summary: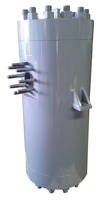 Designed for natural gas and petroleum producers to use in secondary and tertiary oil production phases, ultra-high pressure natural gas injection filters for Enhanced Oil Recovery (EOR) operations feature seamless, weld-free design; are manufactured of forged carbon steel; and withstand 9,000 psi operational pressure. Top-load configuration with removable manifold enables filter housing to remain in place for filter cartridge/element replacement during maintenance.
---
Original Press Release:

Microdyne's Patent-Pending Enhanced Oil Recovery High Pressure Filters



St. Louis, MO/USA – High-efficiency compressed air and gas filter manufacturer Microdyne Products Corp. announces a new line of patent-pending, ultra-high pressure natural gas injection filters for Enhanced Oil Recovery (EOR) operations. Microdyne specifically designed the filters for natural gas and petroleum producers to use in the secondary and tertiary oil production phases: injecting natural gas under high pressure into waning formations to boost output of existing production wells. The filter features a patent-pending housing design that employs a unique seamless, weld-free design and is manufactured of forged carbon steel capable of 9,000 psi operational pressure. The weld-free design ensures housing integrity under extreme pressure, while reducing the overall unit cost. With its patent-pending top-load configuration, the filter housing remains in place for filter cartridge/element replacement during routine maintenance cycles. Ultimately, this feature dramatically reduces downtime in the field, labor costs, and most importantly, interruption to well production.



With the higher cost of secondary and tertiary oil recovery operations in an economic climate of fluctuating oil prices, petroleum producers are challenged to marginalize production costs while boosting output to maximum potential. Microdyne helps them meet this challenge with the introduction of their high pressure natural gas injection filters. These filters effectively and efficiently remove contaminants from the highly pressurized natural gas before re-injecting it into waning formations to boost pressure and, therefore, oil production.



With conventional filters, costs increase during the maintenance phase of operation. Filter element cartridges must be routinely replaced to operate effectively with low differential pressures. It's during this phase, however, that costs can escalate due to production losses resulting from excessive production downtime, as well as increased labor costs to exchange the filter element cartridges. Microdyne Products Corp.'s high pressure natural gas filters address these issues with their patent-pending design of a removable manifold to easily exchange the filter cartridge element from the top of the unit rather than by removing the filter housing bowl; a process that requires the filter to be completely removed from the skid to gain access to the bowl. Changing out via the top of the unit allows the unit to remain in place during the exchange.



Microdyne Products Corp. has been innovating in compressed air and gas filtration since 1980. With over thirty years of experience designing and manufacturing premium pre-filters, coalescing, and sterile, and specialty filters, their remarkably configurable high pressure filters for enhanced oil recovery operations can be customized to meet specific operating requirements as necessary.



Contact:

Todd Witengier

todd@microdyneproducts.com

12735 Carrollton Industrial Drive

Bridgeton, MO, USA

Ph: 314-291-5600

More from Software